This personal genealogy blog challenge is to stimulate my own genealogy blogging efforts in 2014 – 2015 by focusing on a different kind of genealogical record each week. I wanted a challenge that reflected my own archival background as well as my own genealogy interests and there are probably lots of other records that I could have included. The challenge has an Australian focus but most of these records will be found just about anywhere in the genealogy world.
The 52 different types of genealogical records I finally decided on are listed in no particular order (each week will be a random surprise). Originally I planned to do this over 52 weeks in 2014 but soon realised that I have to factor in travel and illness so it is continuing into 2015 from Week 26.
Anyone is welcome to do all or part of this blogging challenge.  Let me know if you are participating and I will put a link to your post under each week's challenge.
Links to Weeks 1-25 are here. Week 26 School Records Week 27 Census Records Week 28 Tombstones Week 29 Military Records Week 30 Postcards Week 31 Photographs Week 32 Asylum Records Week 33 Church Records Week 34 Maps
Week 35 Sporting Records
It is amazing how often serendipity occurs in family history research. I should have done this topic towards the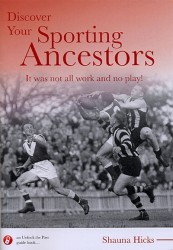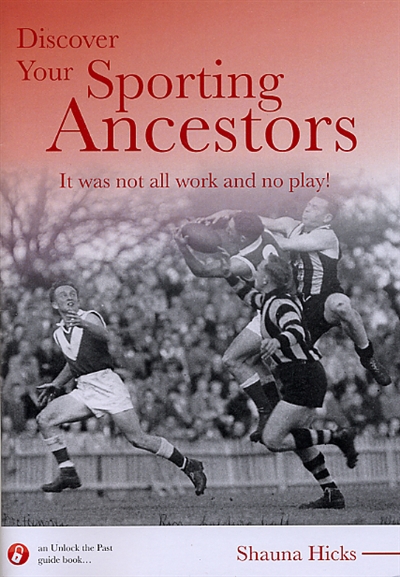 end of last year, not now but this week's topic, sporting records, is occurring the week before I am giving a talk on sporting ancestors at the 14th Australasian Congress on Genealogy & Heraldry in Canberra. Plus my new research guide on Discover your sporting ancestors: it was not all work and no play will be available at Congress for the first time.
Sporting records can tell us how our ancestors were involved in their local communities and what they did in their spare time. Or was it all work and no play? My mother in law's families, Eldridge and Burstow, were heavily involved with the Bribie Island Surf Life Saving Club.  We only discovered this after we moved here a couple of years ago. However, once family members told us of the connection it was easy to find information on both families.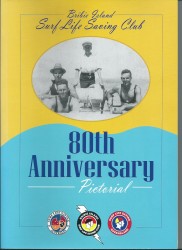 The Surf Club's 80th anniversary pictorial publication contained numerous references to both families including photographs. Through Trove you can easily find references just doing a keyword search on a name and place. For example, one of the Eldridge cousins was chased by a shark off Woorim and this was reported in the local newspaper.
Funeral notices might also give an indication of a person's connection to a sporting club or association. My partner's great uncle Adkins Robert Spencer was President of the Amateur Fishermen's Association of Queensland (AFAQ) for many years and also spent time on Bribie Island. Members of the Association were invited to attend his funeral.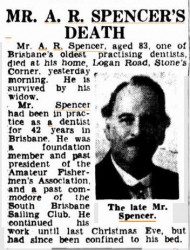 The Association's official history also had many references to him and by searching in Trove for articles on the AFAQ, I was able to discover even more stories about him, including this small obituary in The Courier Mail 11 Feb 1938 via Trove.
While you may not get biographical information on sporting ancestors, what you do get is the opportunity to learn more about them and how they spent their time. After all, we  don't just want names and dates on a family tree, we also want to be able to add to the history of the times in which they lived.