This personal genealogy blog challenge is to stimulate my own genealogy blogging efforts in 2014 – 2015 by focusing on a different kind of genealogical record each week. I wanted a challenge that reflected my own archival background as well as my own genealogy interests and there are probably lots of other records that I could have included. The challenge has an Australian focus but most of these records will be found just about anywhere in the genealogy world.
The 52 different types of genealogical records I finally decided on are listed in no particular order (each week will be a random surprise). Originally I planned to do this over 52 weeks in 2014 but soon realised that I have to factor in travel and illness (mostly my mother's) so it is continuing into 2015 from Week 26.
Anyone is welcome to do all or part of this blogging challenge.  Let me know if you are participating and I will put a link to your post under each week's challenge.
Links to Weeks 1-25 are here. Week 26 School Records
Week 27 Census Records
This is more of a UK record as Australia has not kept its annual census records until recently, and then only if you have ticked the box to keep. For more information on saving your Australian census record see the National Archives of Australia's media release following the 2011 census.
I am sure all of us have benefited from being able to search the digitised copies of the UK census for ourselves. We can simply look up the indexed records in Ancestry or Findmypast and go straight to the correct image. But and there is always a but, not everything is straightforward or we don't have instant access to subscription databases.
I also use FreeCEN to do my preliminary searching and once I have found the right entry, then I go to the others for a copy of the image. But not everything is indexed yet on FreeCEN so you do need to check and see what is covered for the location and census year you want. FamilySearch also have the 1881 census indexed or are in collaboration with others for the indexes, but not the images.
So there are lots of ways to search online but we still might not find who we are looking for. Poor handwriting and indexing errors are an issue although we can search on given names and perhaps discover the surname that way. My Price family in Staffordshire were under the name Grice but thankfully he was called Solomon and there were not too many Solomon's in Staffordshire! An email to Findmypast and the transcription error was quickly fixed so if you do find some indexing or transcription errors, let the subscription databases know so that they can amend the entry.

I have not been so lucky with Henry Spencer who I still can't find in the 1871 or 1881 census in Staffordshire or elsewhere. I had believed that he might have been in the military but extensive searches online and by a researcher at the National Archives UK have failed to find any evidence of that.  Poor handwriting or an indexing error might be responsible for losing him in one census but two?
I have searched under all variants of Henry, Spencer, his home place of West Bromwich in Staffordshire, or nearby, where he was baptised Arrow in Warwickshire, for both 1871 and 1881 census records when he would have been 16 and 26 years old respectively. I can find his family but not him. He doesn't marry until after he comes to Queensland in 1883. His father was a chemist and quite well off so I don't think he became a servant but perhaps a trade. Older brothers became chemists and dentists which is why I thought maybe military for a younger son.
Henry Spencer and the mystery of his early years is one of my genealogy goals for 2015. I am still hopeful of finding a clue in the census records as they have solved many other brick walls for me now that they are online and searchable.
I also had a breakthrough with the 1901 and 1911 Irish census which are also online and free to search. To discover that my GGG grandmother Sarah Fegan was still alive in 1901 was fantastic, although she is indexed under Legan.

How did I find her? A simple search for all Sarah's from Glasnarget the townland in County Wicklow I knew the family were from, but it was a gamble that she might still be alive. She could have remarried which is why I didn't put in a surname. On the Form B1 it does look like Fegan rather than Legan so I was glad that I did look at this too. How many of you look at all the images available or do you just look at the household return which is Form A?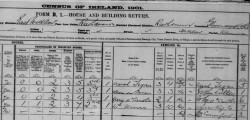 Remember you can also use Google maps and street view to see if an address is still there. Most of my places have been redeveloped since then but you might be lucky.
Lost Cousins is a website where you can list all your families in various census and with a bit of luck, long lost relatives will contact you. I know others who have had great success with this but I am still waiting. At least my families are all listed!
These are just some of the reasons why I love census returns and included them in my list of genealogical records. Now I am off to have another look for Henry Spencer, he must be out there somewhere!