I  am a proud ambassador for the upcoming Waves in Time conference on the Sunshine Coast. Ambassadors are doing a series of blog posts on speakers and sponsors to help promote the conference and get the excitement going.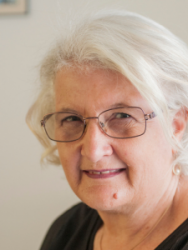 My sixth and final speaker interview is with Barb Toohey from Canberra. We have asked her a set of questions to learn more about her interest in archives and history. Questions are in italics.
I wonder if you could tell us a little about your background?  Are you a genealogist, researcher, historian or representing your organisation?
I am a researcher who started creating my first family tree in 1973 after mum died – as well as a photo album for her family.   I only had one grandparent left to ask at that time, so much of my family tree has been a journey of  discovery. My working career involved teaching, technical training, and data analysis and I have had a life time involvement with many sports as a competitor, organiser and parent.
Many busy years elapsed before I employed a staff member who taught me the tricks of researching family history – helpful if you can take the boss to the library for extended lunch hours!  Now I have become a very busy retiree who is involved with the local Genealogy Society in Canberra, playing and teaching competition Bridge, training and teaching dog sports, volunteering  on the 140 year old original Murray River paddlesteamer "Enterprise"at the National Museum of Australia, plus travelling whenever I can find a gap in my schedule.
What do you love most about genealogy/family history/history/heraldry? 
All these activities have broadened my life experiences and widened my circle of friends – not to mention the extra kms I travel every year.   The house and gardening are not on my "to do" list!   I love the research and discovery of family history and it doesn't really matter whose family I am working on.   The writing and publishing is more of a struggle for me – but that is where I am at now.
Have you attended a History Queensland Conference in previous years?
No.
What are your key topics for the Waves in Time Conference? How do you think your topic/s will help the family & local historians at the Waves in Time Conference?
I am also facing the issue of what to do with all my research work – hence my topic.  This is a task I am addressing at the moment and have discovered through personal experience how difficult it can be to negotiate estate issues.  I hope I can bring an awareness of some of the issues I have grappled with to others attending.
Do you have a favourite piece of advice or a tip or trick you can share with conference attendees?
My daughter lives in Qld, I visit regularly and have attended this conference before.  I have gained an amazing amount of benefit from attending large conferences – from the range of speakers and topics, to the information at the trade tables and especially  the social interaction with like-minded people.
Thanks Barb for those answers and we all look forward to catching up with you in person at the Waves in Time conference in May.
As an Ambassador I receive a free registration in return for promoting the conference in various social media forums and on my website and blog. In addition I am also giving a free talk at the Friday Fair which is open to the public and free. More details on the Waves in Time website.