It was good to finally attend FHDU 2022 a four-day event in person after the delays of Covid. Getting to Castle Hill in Sydney and staying at the Hills Lodge was not cheap but worth it. Most of the speakers were staying there and quite a few of the attendees who I knew from previous events. No shortage of people to share a drink with, have lunch or dinner with.
I arrived Monday and headed over to Castle Hill RSL in the afternoon to collect the goody bag from registration and see the exhibits. That evening I was too tired for socialising, so it was room service and an early night. There was a shuttle bus for speakers in the morning and I managed to get a seat which was another opportunity to talk to some of the international speakers.
Day one was huge with three streams of talks and workshops which were an additional cost. I stayed with the talks as there was plenty to interest me. First up was one of my fav speakers Maurice Gleeson on organising and managing your DNA matches. This all makes sense the more you hear and relate it to your own matches.
After morning tea and the biggest muffins I have ever seen, I went to Michelle Patient's exploring thru lines and theories of relativity. I tend to look at my Ancestry thru lines quite often but need to revisit my theories of relativity with MyHeritage. Then it was a quick walk to another room for Angie Bush on correlating genetic and historical evidence in written conclusions. This was along the lines of the genealogical proof standard, and it really does help to write down what you have done and what it means. That way you may see gaps in the research or something that doesn't quite add up.
Lunch was plentiful and a good time to sit down and chat with others. My first choice after lunch was Louise Coakley with tips for working with speculative trees on Ancestry. Looking for Dad's biological father means that I do have a speculative tree although I am almost certain I have solved that puzzle. My suspect never had any other children so I may never have complete proof but lots of DNA matches on that family line. Then another quick walk and I was listening to David Rencher on using all the features of FamilySearch. I love their Wiki and Catalog and probably use them most weeks. Always amazed to hear that people don't know about those research tools.
More cakes and slices for afternoon tea and my last talk for the day was overlooked sources for 17th and 18th century English research with Paul Milner. So many sources and he did open the parish chest.
Day two started with myself talking about Australian genealogy online. One of the problems with being on the main stage was the lights were right in your eye making it hard to see the audience. When I recorded the talk, it was 45 minutes long but on stage I must have talked faster because I finished after 33 minutes. Thankfully there were lots of questions and that filled in the time until morning tea and those muffins, again.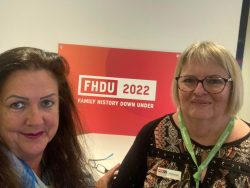 Mia Bennett with probate, where there is a will was my next talk. Picked up some useful tips for searching and we can't assume that our ancestors did not have a will. My next pick was Helen Smith's friendly societies and family history. These records are usually not indexed or easily accessible but can have lots of information on families and communities.
Another filling lunch and back to Maurice Gleeson with using DNA to find long lost family (for adoptees, foundlings etc). Relevant to my research but it does come back to who has tested and are they related to you. Then I listened to Kevin Borland talk about Borland genetic web tools. I have to confess I got a little confused here and perhaps it was too technical, at least for me. Following afternoon tea another session with David Rencher on introduction to Irish land records. Records always make sense when someone else explains them but that said, I have managed to work out the land holding of my GGG grandfather Robert Fagan/Fegan in County Wicklow.
As I had booked for the conference dinner, I didn't want to go back to the motel for such a short time. Therefore, it was out to the beer garden area and joining a table of like-minded people for a drink and a chat. The conference dinner was a buffet (not sure it was worth the price of the ticket) and then a talk by Paul Milner on the messages our ancestors leave behind. As always, I love Paul's talks and it was very thought provoking. I managed to hitch a ride back to the motel and then tried to sleep with all those thoughts running around in my head.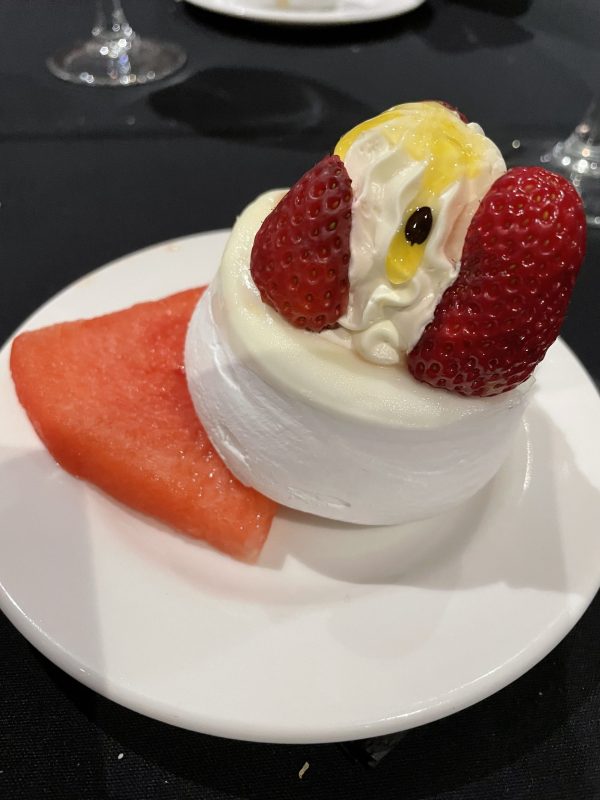 Day three started with Paul Milner and overlooked sources for 19th and 20th century English research which was a broad sweep of records. I don't often use directories because I assume my ancestors will not be in these publications. But then, maybe they are. After another huge muffin, I listened to David Rencher talk about Irish records in FamilySearch, Ancestry and Findmypast. This was a good sum up of resources and where to find them. My second talk of the conference was next and all about why can't I find it? This gave tips on how archive catalogues search, indexing errors, name variants and a host of other reasons why a record is elusive.
With my talk out of the way I could enjoy lunch and just chat with others. Then my Scottish research was enhanced with Paul Milner talking about finding your Scottish ancestors on the Big Five. Scotland's People is a must and I have been able to find some of my Carnegie ancestors. Louise Coakley was next with investigative genetic genealogy and how DNA can solve cold cases and identify human remains. Fascinating technology and rewarding for all those families who have lost loved ones.
Mia Bennett was my last choice for the day with hidden in the newsprint. Who doesn't love digitised newspapers and it is amazing the stories we can find out about our ancestors and their siblings. Not to mention the advertisements. After this there was a repeat of yesterday with killing time in the bar chatting until the conference dinner. This time the speaker was Carol Becker (Paul Milner's wife) with being married to a genealogist. Carol was very funny, and it was so easy to identify with her 'complaints' about genealogists and paper and books. So true.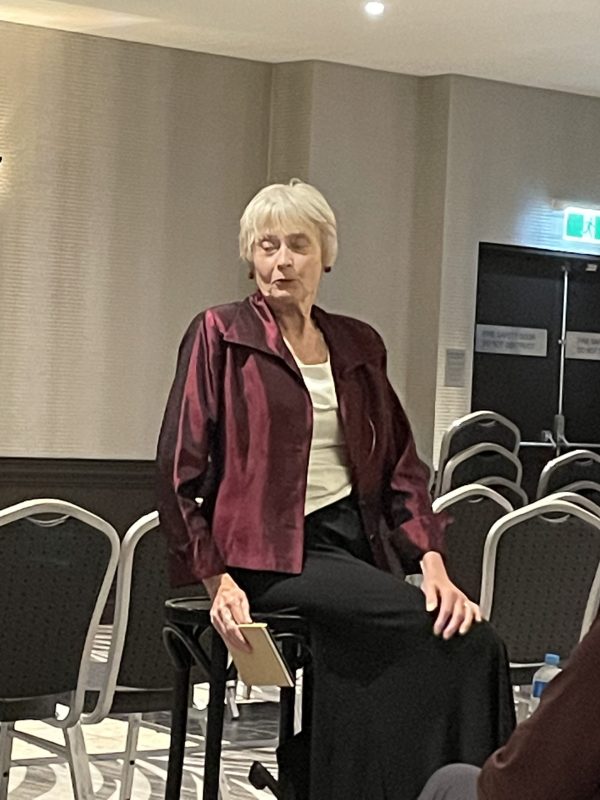 The final day we were all starting to wilt a little I think with so much information. A great start with Judy Russell and the discriminating genealogist: telling good evidence from bad which was powerful and thought provoking. Although almost muffined out, I took a chocolate one this time (how healthy are blueberry anyway).
Then a delightful talk by Sue Swalwell on hiding in the chancery cupboard, the trials and tribulations of an 18th century wife. Truly amazing how much information Sue had found on this one woman by looking in chancery records. Then I listened to Jenny Joyce on palaeography and deciphering old handwriting. I did this in my history degree, and it has been very useful over the years. It was good to have a refresher on some of the most common transcription errors.
Lunch followed by Angie Bush on identifying and leveraging DNA matches to break down brick walls. Wow that was an interesting approach and one that I will try with some of my unknown matches. Next was David Rencher with chasing the poor and landless Irish. Again, a great talk with some new ideas on how to place our ancestors in Ireland.
The final talk of the conference was Judy Russell's powerful talk The Rest of the Story. Wow despite the end of the day I think everyone was on the edge of their seats. Fantastic and I must listen to it again. I was disappointed that there was no formal closure of the conference after Judy's talk. Louise Coakley did race up and thank Judy and wish us all safe travels but normally it is more formal than that.
As well as the in-person experience, the conference talks were pre recorded and can be listened to again. For those unable to attend, they could have the virtual experience and choose a stream of talks or all talks. This gives me a chance to listen to the sessions I missed. That is going to keep me busy over the next few weeks.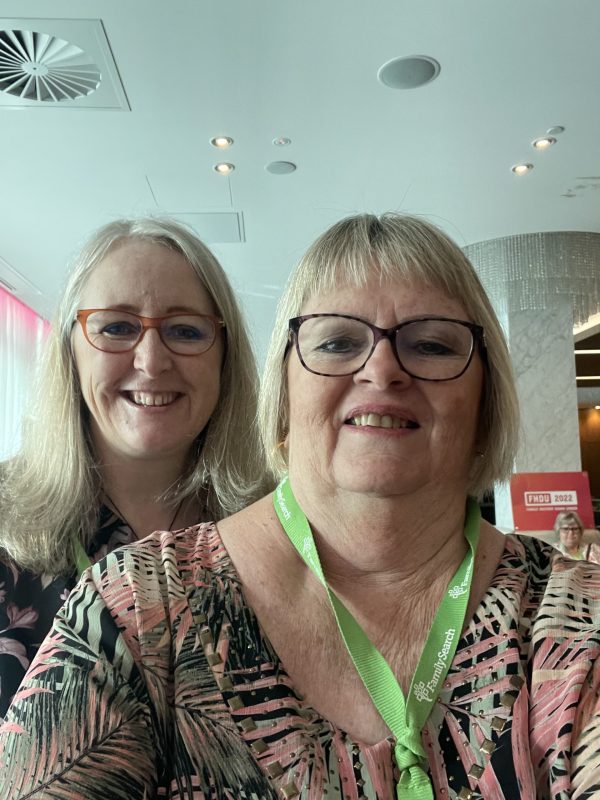 There were no technical hiccups that I was aware of, people kept to time and the program had minor session changes. All very smooth. As mentioned, more food than you could eat but they probably needed more than one coffee machine in the main conference room. A very impressive conference and thanks must go to the Unlock the Past team for all the hard work over the last few years.
My disappointments included the cost/quality of the conference dinners, lack of exhibitors to visit during breaks, and despite my promising myself to buy only one book, I ended up with six. Perhaps next time I need to leave the credit card in the motel room.
It was expensive to attend in person but worth it for the experience, the ability to see people I haven't seen in three years and to hear some dynamic speakers in person. My to do list is huge and I still have sessions to listen to. Thanks everyone for making FHDU 2022 such an amazing experience.
My next big adventure will be RootsTech 2023 in person for the very first time. See you there.