RootsTech 2023 has come and gone, and this report is a bit delayed as I spent a further three weeks in the USA. A few days in Florida in Fernandina Beach with a friend then off to Fort Lauderdale for a 7 night cruise in the Caribbean. We visited the Bahamas, Jamaica, Cayman Island and Cozumel in Mexico. Then it was a few days in San Francisco to get over the trip back across the USA. Finally, I arrived home not knowing what day or time it was.
What a fantastic trip and the extra weeks helped justify the airfare and accommodation for Roots Tech 2023 alone. It is not a quick trip from Australia plus the recent covid years meant that there were only five Aussie/New Zealanders there for this first in-person event since 2020. Also I think the overall attendee numbers were down on previous years because of the still present covid factor and also because it was free online. Why pay travel and accommodation costs if you can watch at home in your PJs?
This might be something that organisers want to think about moving forward, especially if they want to see those large in-person numbers again.
However, it must be admitted there is nothing like meeting people in person – Else Churchill, Judy Russell, Jonny Perl, Nathan Dylan Goodwin, Daniel Horowitz, Marian Pierre-Louis, Amy Johnson Crow, Helen Tovey, Myko Clelland, Nick Barrett, and Geoff Rasmussen to mention just a few. Putting a face to a name is exciting when you have been emailing them for years.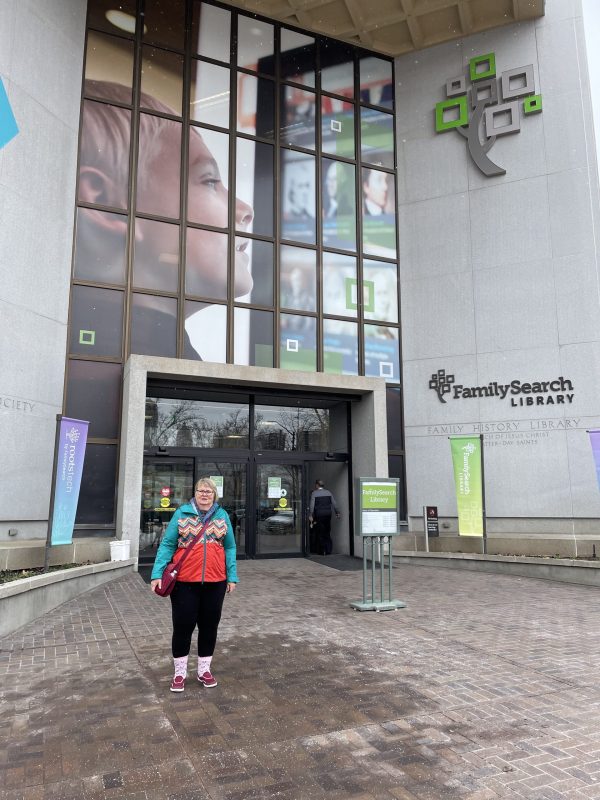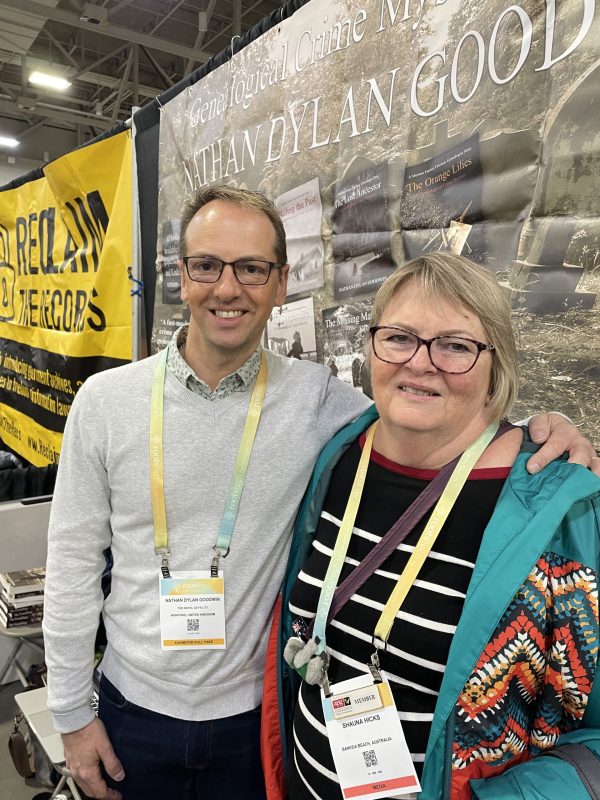 The venue was the Salt Palace Convention Centre. What can I say? I have never been in a building so large with so many huge halls for sessions and so many rooms for classes. Not to mention the exhibitors area. There were 30 minutes between sessions but going from one level to another, or one side of the complex to the other was not easy.
Anyone with mobility issues (slow walkers like me) struggled so I ended up just hanging around the four main halls, all with excellent speakers and talks. The rest I can watch later. It was also amazing to be in a session which was being recorded live for those at home. The technology was fascinating and lots of workers to make sure there were no technological fails.
I wasn't overly impressed with the catering on site with limited access to tea/coffee and the American food was not quite to my palate for lunch. More likely to put me asleep after a heavy meal. Where I stayed offered breakfast so I had a good start to the day and finished with dinner with various friends and speakers. I also attended the MyHeritage after party which was a good chance to catch up with lots of acquaintances.
Apart from those few grumbles, I thoroughly enjoyed the sessions I went to and my trips around the exhibitor's area. I purchased the FamilySearch bag and got my free MyHeritage bag, which was huge, perhaps in keeping with the overall 'big' theme. The only book I purchased was Diahan Southard's Your DNA Guide, so I was quite proud of my restraint.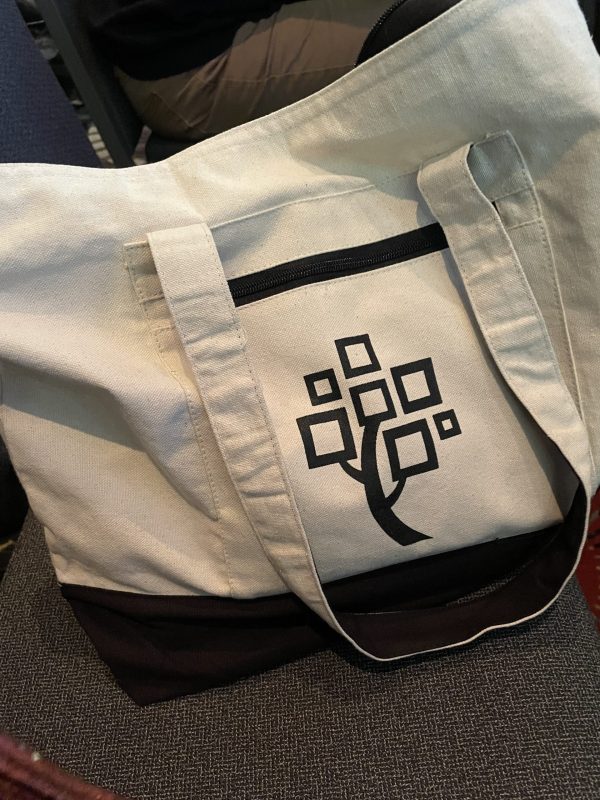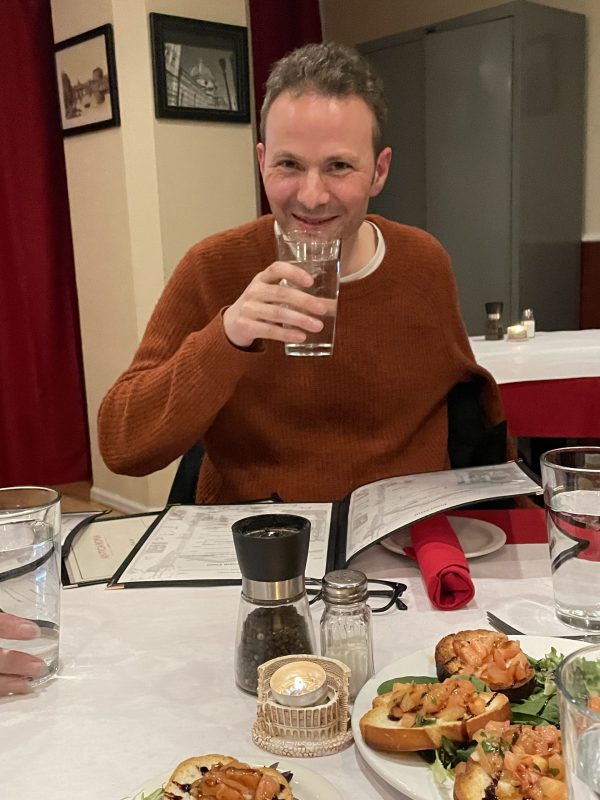 Speakers I watched live included Amy Johnson Crow, Judy Russell, Roberta Estes, Jonny Perl, Troy Dunn, Diahan Southard and Wanda Wyporska, the new CEO of the Society of Genealogists in London. I also watched the Ancestry updates with Crista Cowan. One of the sponsors was Storied and I went along to see how that worked for recording our family stories.
Who was my favourite speaker in person? It's a toss up between Judy Russell's on the genealogical wealth that can be found in community archives which went straight to my archival heart. There are so many gems out there waiting to be found. Do yourself a favour and watch Judy's Follow the Money: records of the recordmakers. The other side of my favourite coin was Jonny Perl's Third Party Tools which was so incredibly broad and full of ideas covering things like automate, organise, visualise, connect and specialise. This is one to watch more than once.
Little shuttle cars ran between the Convention Centre and the FamilySearch Library which was fantastic. A visit to the Library was a must and the floor that attracted my attentions was the Books level. Many of these are not yet digitised and must be used there. There is scanning equipment to do it yourself but no time for that this trip. Browsing the shelves for Antrim in Ireland turned up a whole range of items on Islandmagee. I was just so excited as I believe Dad's family come from there.
One other thing that I must mention is the location of Salt Lake City up in the mountains. It was still snowing there most of the days I was there. A definite first for me to walk to a conference when it is snowing. Plus, it was freezing but nice once you got inside. That's where the MyHeritage bag came in handy for keeping coats, scarf and gloves during the day.
Cold doesn't bother me that much because you can rug up or stay inside. What I found hard was simply breathing! Even a few steps had me gasping for air. On mentioning this to others it was linked back to the altitude and for someone who lives at sea level it was a big change for me. That was another reason I wasn't racing around the Salt Palace Convention Centre. This proved to be true as by the time I arrived at Fernandina Beach in Florida I was breathing easily again.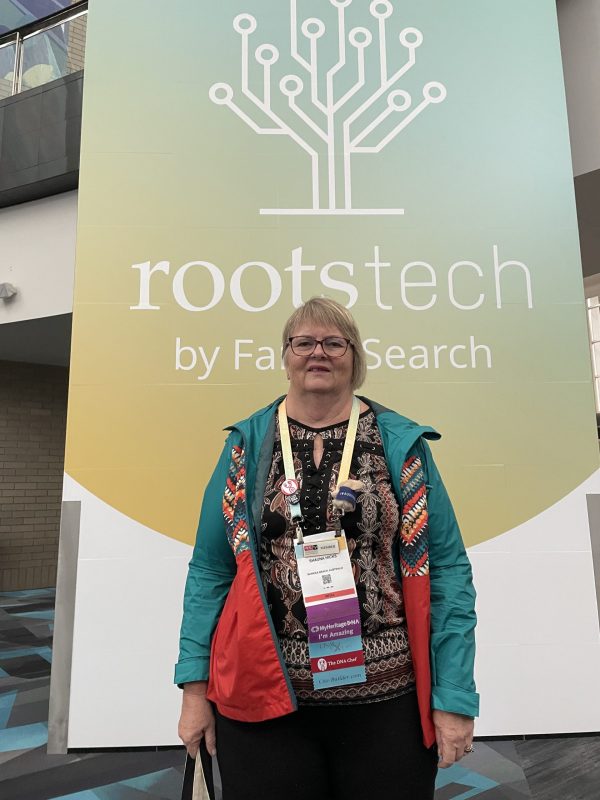 In conclusion I am really glad that I made the effort to attend RootsTech 2023 in person. There is a vibe that just doesn't happen at home by yourself.
Would I do it again? The breathing issue worried me but now that I am aware it would not be so scary. The cost from Australia is definitely a factor, especially when it is free at home. However, next time (and there will be a next time) I would also factor in research time at the FamilySearch Library for anything I couldn't see online. Plus there are all those wonderful catch ups with people that happed at genealogy conferences.
Perhaps we need a RootsTech Down Under?