I  am a proud ambassador for the upcoming Waves in Time conference on the Sunshine Coast. Ambassadors are doing a series of blog posts on speakers and sponsors to help promote the conference and get the excitement going.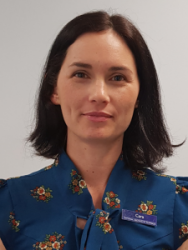 My fifth speaker interview is with Cara Downes from the National Archives of Australia. We have asked her a set of questions to learn more about her interest in archives and history. Questions are in italics.
I wonder if you could tell us a little about your background?  Are you a genealogist, researcher, historian or representing your organisation?
I will be representing the National Archives of Australia, where I have worked for the past 15 years in a public access role.
What do you love most about genealogy/family history/history/heraldry? 
I have always had a strong interest in history and I love using the records in the National Archives to connect people to their family stories.
Have you attended a History Queensland Conference in previous years?
No, so I'm very much looking forward to this one.
What are your key topics for the Waves in Time Conference?
I will be speaking about the history of Chinese migration to Queensland and the types of records that can be found documenting Chinese people in the National Archives collection. The history of Chinese migration to Australia is one of many trials and tribulations, with the 'White Australia  Policy' greatly controlling the movement and rights of Chinese people. Past Colonial and Commonwealth Government policies have left a wealth of documents through which we can explore their lives. The records reveal a diverse range of information and photographs on Chinese people who made Queensland their home.
How do you think your topic/s will help the family & local historians at the Waves in Time Conference?
Researching Chinese family history can be challenging due to variations of names and the way they were recorded by Government officials. This topic will shed light on the types of records that are useful for Chinese family history research and provide tips on how to find them.
Do you have a favourite piece of advice or a tip or trick you can share with conference attendees?
If you can't find a record of a person on a database, make sure you try as many variations of spelling as possible. Also begin your search broadly with fewer keywords before narrowing down and including more search fields.
Is there somewhere we can connect with you online?
Many of the National Archives' records on Chinese migrants in Queensland have been digitised and you can access these through our website and database RecordSearch, available at www.naa.gov.au.
Thanks Cara for those answers and we all look forward to catching up with you in person at the Waves in Time conference in May.
As an Ambassador I receive a free registration in return for promoting the conference in various social media forums and on my website and blog. In addition I am also giving a free talk at the Friday Fair which is open to the public and free. More details on the Waves in Time website.