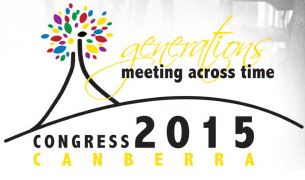 As one of the official AFFHO Congress 2015 bloggers, it is my pleasure to interview speakers and learn more about them prior to the Congress in Canberra in March 2015. Organised by AFFHO (Australasian Federation of Family History Organisations), Congress is only held every three years. It attracts some of the best speakers in Australasia and overseas, hundreds of keen family history enthusiasts and lots of trade exhibitors and without doubt is the major genealogy, family history and heraldry event in Australasia. See the program here and for information on sponsors and exhibitors see here.
Previous interviews – Richard Reid, Sue Reid, Michelle Nichols, Robyn Williams, Kate Bagnall, Cora Num, Jennie Norberry, David Berry, John Blackwood, Mathew Trinca
This is the 11th post in my series of interviews – speaker Carole Riley
Questions
SH: Are you a genealogist, researcher, historian or representing your organisation?
CR: Yes, I'm a professional researcher. I am also a Vice President of the Society of Australian Genealogists, and Honorary Editor of the journal.
SH: I wonder if you could tell us a little about your background?
CR: I was a computer programmer and changed careers when my job was made redundant. I went back to psychology and did a masters in coaching psychology and a counselling diploma, but I decided that genealogy was what I really wanted to do.
SH: How has genealogy improved or changed your life?
CR: I've realised that this is what I should have been doing all along! It's never too late to find your calling in life.
SH: What do you love most about genealogy?
CR: I love the mysteries and the puzzles, and developing the stories. Every family is different, and every family is interesting. It's the best use of my psychology training I could have found. I also love learning about the history – world, national, colonial, local – and about the resources we can use to uncover those family stories. There's always something to learn.
SH: Have you previously attended Congress?
CR: Yes, I have attended every one since Darwin in 2006
SH: What are your key topics for Congress?
CR: Land research (double session), connecting with family using social media, gold diggers and technology – Dropbox and Evernote
SH: How do you think your topic/s will help the family historians at Congress 2015?
CR: Land research is neglected by a lot of family historians, perhaps because it seems too difficult to do. I want to show some of the riches that can be found, and that anyone can do it.
Social media is used by the younger generations and I think that if we want them to be interested in our research we have to reach them using social media and tell them the stories, not just the facts, about their ancestors.
A lot of us have ancestors or relatives who spent time in the gold fields and we may not be aware of it. I am hoping that family historians at Congress will consider the gold rushes in looking for missing relatives and accounting for their younger, more adventurous, periods in their lives.
Dropbox and Evernote are tools that I use every day as I go about my work, and I am hoping to show family historians how incredibly useful they are and give them ideas about how to use them.
SH: What do you think are the benefits of attending a large conference like this for you personally and for others attending?
CR: There is nothing like it anywhere else – 4 days of nothing but family history, meeting other genealogists from around the country and learning from the best. I've been a professional researcher for years now but I always learn a lot.
SH: Do you have a favourite piece of advice or a tip or trick you can share with conference attendees?
CR: Go back over what you already have. The more you learn about history and about resources in general, the greater the significance of every piece of information in a certificate or document. I am still learning about the branches of my family who spent time in the gold rush towns.
SH: Is there somewhere we can connect with you online?
CR: My personal website, with my family tree http://caroleriley.id.au
and my business website http://heritagegenealogy.com.au
I'm also on social media:
Facebook https://www.facebook.com/carole.g.riley
Twitter https://twitter.com/CaroleRiley
Google+ https://plus.google.com/+CaroleRiley/
Pinterest http://www.pinterest.com/caroleriley/ and
Instagram http://instagram.com/caroleriley/.
Thanks Carole for sharing your thoughts with us.
Over the next two months I will be bringing you more interviews with Congress speakers. My official blogging team partners Jill Ball and Pauleen Cass will be doing similar interviews and we will bring you news of Congress as it comes to hand. I am looking forward to catching up with and making new geneamates as well as attending some great speaker sessions in March. Hope to see you there too.