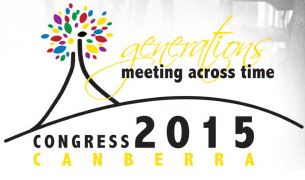 As one of the official AFFHO Congress 2015 bloggers, it is my pleasure to interview speakers and learn more about them prior to the Congress in Canberra in March 2015. Organised by AFFHO (Australasian Federation of Family History Organisations), Congress is only held every three years. It attracts some of the best speakers in Australasia and overseas, hundreds of keen family history enthusiasts and lots of trade exhibitors and without doubt is the major genealogy, family history and heraldry event in Australasia. See the program here and for information on sponsors and exhibitors see here.
Previous interviews – Richard Reid, Sue Reid, Michelle Nichols, Robyn Williams, Kate Bagnall, Cora Num, Jennie Norberry
This is the eighth post in my series of interviews – speaker David Berry from the State Library of New South Wales
Questions
SH: Are you a genealogist, researcher, historian or representing your organisation?
DB: I am representing the State Library of NSW. As a Reference Librarian and Family History Librarian I am passionate about research and genealogy.
SH:  I wonder if you could tell us a little about your background?
DB: I trained as an English/History teacher but have spent most of my working life in libraries. This includes postings in Britain (Westminster) and Canada (Vancouver, B.C.). The latter as a Family History Librarian on work exchange. At the State Library I have led the Family History Team and I am an active member delivering seminars to family and local historical societies, public libraries and the general public (including the ever popular Family History Month).
SH:  How has family history improved or changed your life?
DB: Being a family history librarian enabled me to work in Canada on a work exchange and experience life from a North American perspective. My passion for genealogy and specialist knowledge gained as a family history librarian has enabled me to dig into my own ancestral lines as well as giving me the privilege of helping others document the lives of their ancestors.
SH:  What do you love most about family history?
DB: I love research and feel privileged to work at one of the great libraries. This enables me to draw daily on amazing and unique collections and provide the best information to family historians from available sources to answer their questions.
SH:  Have you previously attended Congress?
DB: I attended Congress in Adelaide 2012.
SH:  What are your key topics for Congress?
DB: The Digitisation of Collections at the State Library of New South Wales and the many benefits for family history researchers.
How the Library is using social media to increase the visibility of digitised collections and engage a new generation of users.
SH: How do you think your topic/s will help the family historians at Congress 2015?
DB: Digitisation of genealogical data has transformed family history research in recent years with collaboration between commercial organisations and government archives.
The topic will draw attention to digitisation initiatives of the State Library of NSW, including the Digital Excellence Program (DEP). The DEP is creating digital material on a scale never before seen in Australia providing new and exciting avenues of research for family historians.
Also encourage family historians to more fully engage with social media as cultural institutions such as the State Library expose their collections to social media channels popular with the Australian community.
SH:  What do you think are the benefits of attending a large conference like this for you personally and for others attending?
DB: Insights gained from hearing some of the best speakers and presenters in the field – and with so many choices from 50 presentations/workshops (British Emigration, Chinese Roots, DNA, Familysearch, Heraldry, Huguenot, Joint Copying Project, NZ connections just some of the research interests on the days I will be attending).
Connecting and networking with people passionate about family history.
SH:  Do you have a favourite piece of advice or a tip or trick you can share with conference attendees?
DB: Spend time in the exhibition space to explore the latest products, services, technologies etc.
SH:  Is there somewhere we can connect with you online?
DB: email: david.berry@sl.nsw.gov.au
blog: "Family History at the Library" tumbr blog: http://statelibrarynsw-familyhistory.tumblr.com
Thanks David for sharing your thoughts with us.
Over the next two months I will be bringing you more interviews with Congress speakers. My official blogging team partners Jill Ball and Pauleen Cass will be doing similar interviews and we will bring you news of Congress as it comes to hand. I am looking forward to catching up with and making new geneamates as well as attending some great speaker sessions next March. Hope to see you there too.