This year has gone incredibly fast! But then I seem to be saying that every year lately. There is the odd time when I think it would be nice to simply sit and do nothing but there is always something exciting happening with my family history research or we are indulging my other love, travel.
Regular readers will know that I like to review my genealogy hopes at the end of a year and to set myself some new genealogy challenges for the coming year. So how did I go with my Genealogy Aspirations 2014?
The five aspirations (in brief) were:
1.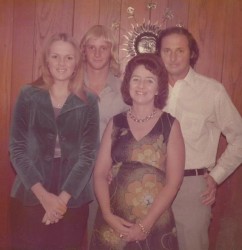 To keep the scanning of photographs and documents at the top of the list (I am very much an out of sight out of mind person). Perhaps three hours  a week, which would be 156 hours for the year. That might even finish the job! This was very successful as I have scanned lots of photos and documents but I was a little over optimistic in thinking that it could be done that quickly. Still more to do but I also did a project for my mother's 80th birthday. I put together a Powerpoint slide show of her life story using scanned images and played it for her and the grandkids. It brought back memories for us and our kids had trouble believing we were ever that young!
2. My Burstow one name study will continue ….. I want to try to do some family reconstructions. It is not an essential part of a one name study but one that intrigues me, especially for the name here in Australia. Again successful as I started putting together Burstow families using the UK census although there were a few that didn't seem to fit. A work still in progress. But what was interesting was that during the year the Surname Society started and in some ways this seems to fit my Burstow research better than the Guild of One Name Societies. The latter is the surname all over the world while the former can be just in one place or country, not worldwide.  I will have to give this more thought. I even created a Pinterest board for Burstow.
3. Each year I try and focus on at least one of my families so in 2014 it will be my Irish families (Finn and Fegan from Wicklow; Jeffers from Armagh and Johnston from Cavan). There are lots of new resources for Ireland. I didn't see any real progress on my Irish families although I think I have established the dates of death for my GGG grandparents James and Rosanna Finn in Rathdrum. My other three Irish families Fegan, Jeffers and Johnston did not progress but oddly enough, I stumbled over new information on my Scottish Carnegie family. I proved that John Carnegie was a merchant seaman thanks to Findmypast and his mother Betsy Carnegie was in the Scottish valuation rolls thanks to Scotland's People.
4. My friend Geniaus has started having Google+ hangouts but so far I've been hesitant to join in as I'm not that techy but like all new things it is just a matter of learning how to do them! So 2014 will be my year to try (and probably like) some of these new social media events. Well I embraced technology in 2014 and did a Google hangout with Geniaus for National Family History Month (NFHM). I also listened to a webinar hosted by the Society of Australian Genealogists and MyHeritage as one of the major sponsors for NFHM persuaded me to do my own webinar on the golden rules of genealogy. All very nerve wracking but people gave me good feedback so no doubt there will be more in 2015.
5. I am not sure if organising National Family History Month on a voluntary basis is a personal aspiration but it will take up my time and I do want to make it even more successful than 2013, so I have included it here. I am happy to say that it was indeed better than 2013 and there is now an online events category as well. Read my report on it here.
Plus there was my usual long list of talks, blogs, new books published and travel all captured in my Diary of an Australian Genealogist or SHHE Genie Rambles.
Now to my Genealogy Aspirations for 2015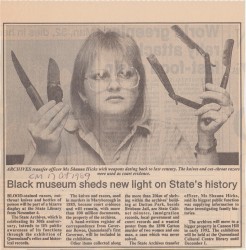 1. Continuing to scan my photos and documents has to be on the list but I have been given a Momento photobook.  I will incorporate my scanning into some type of project with that as an end product. Not sure what it will be yet but something to do with the family history or I am toying with the idea of some sort of autobiography. I have come across a lot of early newspaper cuttings of me at work as this photo shows!
2. I will be relooking at my Wiltshire families as a visit there is planned for July 2015. I hope to visit all the relevant villages near Salisbury so I am compiling a summary sheet of families and villages. Some of them go back to the 17th century so too many names and village to remember and I don't want to miss any.
3. Although I constantly review all of my research since I started back in 1977, I will be following Thomas MacEntee's Genealogy Do-Over in 2015. Some of it may not apply for me and some I may have already done, but there may be something I have not yet thought of. You can always learn from others.
4. My own blogging challenge 52 Weeks of Genealogical Research in 2014 fell off the rails half way as I ran into NFHM and other priorities so I will be taking that up again to finish Weeks 26 to 52 in 2015.
5. Finalise cataloguing all my books in Library Thing – now that we are in our 'final' home I want to be able to easily find all my books, pamphlets, journals etc and Library Thing allows me to note which room, bookcase, shelf etc. I have about 200 entered so far and it has been very useful especially for locating thin books/pamphlets that don't stand out easily when you are looking for them. Plus you can use tags to pull topics together.
Of course there will be all my regular activities. A list of talks and conferences I am attending in 2015 is on the Services & Events page of my website. New events may be added throughout the year.
My 2015 genealogy aspirations are listed – wish me luck!