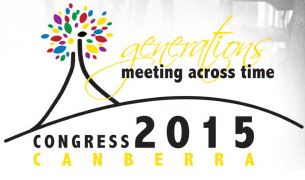 As one of the official AFFHO Congress 2015 bloggers, it is my pleasure to interview speakers and learn more about them prior to the Congress in Canberra in March 2015. Organised by AFFHO (Australasian Federation of Family History Organisations), Congress is only held every three years. It attracts some of the best speakers in Australasia and overseas, hundreds of keen family history enthusiasts and lots of trade exhibitors and without doubt is the major genealogy, family history and heraldry event in Australasia. See the program here and for information on sponsors and exhibitors see here.
Previous interviews – Richard Reid, Sue Reid, Michelle Nichols, Robyn Williams, Kate Bagnall
This is the sixth post in my series of interviews – keynote speaker Cora Num
Questions
SH: Are you a genealogist, researcher, historian or representing your organisation?
CN: Genealogist
SH:  I wonder if you could tell us a little about your background?
CN:  I was born in Goulburn and following my marriage I moved to Papua New Guinea where I lived for six years. It was when we returned to Australia to settle in Canberra that my interest in family history commenced. In 1981 I joined the Heraldry & Genealogy Society of Canberra (HAGSOC) and gradually my interest in family history developed beyond a personal interest. In 1988 I was awarded the Diploma in Family Historical Studies from the Society of Australian Genealogists in Sydney. I then worked as a professional family history researcher and lecturer in Canberra. I was a member of HAGSOC Council for eight years and in 2003 was made a fellow of HAGSOC.
I have been writing and publishing quality Australian genealogy guides since 1995, including the popular book Web Sites for Genealogists, 10 editions, 1997-2008.In August 1997 a website to compliment the book was launched. It is still online today as CoraWeb www.coraweb.com.au and is older than Google and one of Australia's premier genealogy gateways.
I have written and published numerous family histories and yes I have found the time to publish some of my family history, but need to do more.
I now live on the beautiful south coast of New South Wales where I continue to pursue my passion for family history.
SH:  How has genealogy/family history improved or changed your life?
CN:  In one sentence – It is my life.
SH:  What do you love most about genealogy and family history?
CN:  I feel very privileged to be able to make my passion my work and I thoroughly enjoy what I do and the challenges I face working with computers and keeping up with rapidly evolving technology.
SH: Have you previously attended Congress?
CN:  Yes, the first Congress I attended was the 1986 Canberra Bridging the Generations Congress.
SH:  What are your key topics for Congress?
CN:  The key topics of the four papers I am presenting are occupational records, eRecords, online newspapers and exploring modern map sites.
SH:  How do you think your topics will help the family historians at Congress 2015?
CN:  My aim is to introduce family historians to new and exciting ways to research their family history using the latest online resources and techniques with a particular focus on how to use digital records. I will showcase new generation sites that are employing the latest technology to combine databases, information from a diverse range of sources, maps and more to create web portals that present information in a different way. Such sites offer very sophisticated search and display options.
SH:  What do you think are the benefits of attending a large conference like this for you personally and for others attending?
CN:  It is a wonderful opportunity to meet people, network, share information, hear a diverse range of talented speakers present on a wide range of topics.A visit to the family history exhibition is a must to see first-hand the many products and services on offer.
SH:  Do you have a favourite piece of advice or a tip or trick you can share with conference attendees?
CN:  The Internet is now a significant, powerful and convenient research tool for family history research. Increasingly digital access is often the only format on offer and one has to embrace it or miss out. Stay up to date with technology and make sure you backup, backup and backup but more importantly test that your backups actually work as at some stage you will need them.
SH:  Is there somewhere we can connect with you online?
CN:  There is a contact form on my online shop 
Thanks Cora for sharing your thoughts with us.
Over the next few months I will be bringing you more interviews with Congress speakers. My official blogging team partners Jill Ball and Pauleen Cass will be doing similar interviews and we will bring you news of Congress as it comes to hand. I am looking forward to catching up with and making new geneamates as well as attending some great speaker sessions next March. Hope to see you there too.