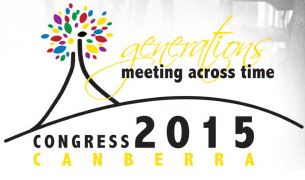 As one of the official AFFHO Congress 2015 bloggers, it is my pleasure to interview speakers and learn more about them prior to the Congress in Canberra in March 2015. Organised by AFFHO (Australasian Federation of Family History Organisations), Congress is only held every three years. It attracts some of the best speakers in Australasia and overseas, hundreds of keen family history enthusiasts and lots of trade exhibitors and without doubt is the major genealogy, family history and heraldry event in Australasia. See the program here and for information on sponsors and exhibitors see here.
Previous interviews – Richard Reid, Sue Reid, Michelle Nichols, Robyn Williams, Kate Bagnall, Cora Num, Jennie Norberry, David Berry
This is the ninth post in my series of interviews – speaker John Blackwood from the Genealogical Society of Victoria
Questions
SH: Are you a genealogist, researcher, historian or representing your organisation?
JB: Volunteer at the Genealogical Society of Victoria
SH: I wonder if you could tell us a little about your background?
JB: I was born in Scotland and emigrated to Australia in 1980 with the company I worked for. My interest in genealogy was awakened during a return visit to the UK when an elderly aunt gave me a hand-written family tree, which I have expanded considerably and led to my own web site. I am president of the Genealogical Society of Victoria (GSV) and have worked part-time as a research assistant at the GSV for many years. I am a regular speaker on Scottish genealogical resources, and have presented papers at both the Second and Third Australasian Scottish Genealogy Conferences in 2006 and 2011.
SH: How has genealogy and family history improved or changed your life?
JB: Can't say it has, but has certainly kept me busy in my retirement.
SH: What do you love most about genealogy and family history?
JB: Having my own web site, it has been very rewarding being contacted by people around the world who are descended from our common ancestor.
SH: Have you previously attended Congress?
JB: Yes the 2003 Congress held in Melbourne hosted by the Genealogical Society of Victoria.
SH: What are your key topics for Congress?
JB: Presentation on Scottish separation and divorce, 17th to 19th centuries
SH: How do you think your topic/s will help the family historians at Congress 2015?
JB: Some insights into family relationships, and where to find records.
SH: What do you think are the benefits of attending a large conference like this for you personally and for others attending?
JB: Education and knowledge.
SH: Do you have a favourite piece of advice or a tip or trick you can share with conference attendees?
JB: Take plenty of notes.
SH: Is there somewhere we can connect with you online?
JB: Only my email address
Thanks John for sharing your thoughts with us.
Over the next two months I will be bringing you more interviews with Congress speakers. My official blogging team partners Jill Ball and Pauleen Cass will be doing similar interviews and we will bring you news of Congress as it comes to hand. I am looking forward to catching up with and making new geneamates as well as attending some great speaker sessions next March. Hope to see you there too.