I am participating in Amy Johnson Crow's blog challenge 52 Ancestors in 52 Weeks. Week 4 of Foundations is Curious.
Curious is a strange topic to write about as we are all curious about our ancestors and how they lived. When I discovered that my 4th great grandmother Mary Hosking formerly Anthony died in the Penzance workhouse, I wanted to know more about how she ended up there.
Mary Anthony was the daughter of Thomas Anthony and Alice Grenfell. She had seven siblings, four brothers and three sisters.
Mary married William Hosking on 10 January 1808 in Uny Lelant, Cornwall. William and Mary had six children, three daughters and three sons.
It has been a while since I have done any research on this family as I could never locate them in the UK census. By doing this review I have now located them in the earlier census records. But it has not been easy. I had to also search under Hocking as well as Hosking. Thankfully we have indexed and digitised census records now and I could do these searches. Using microfilm, it just wasn't possible.
In the 1841 census Mary Hocking (sic) was aged 55 years, her son Christopher was a miner aged 25 years and her sons William and Henry were 15 years and 13 years. They lived in Church Lane, Uny Lelant and all were born in Cornwall. Mary's husband William Hosking must have died prior to 1841.
In the 1851 census Mary Hosking lived in Lelant Village, Uny Lelant. She was aged 67 years and was a widow. With her was her unmarried daughter Patience aged 33 years, a dress maker, her unmarried sons William aged 27years and Henry aged 23 years. Both were miners. 
In the 1861 census there is a Mary Hosking, widow, aged 73 years, born St Hilary with her son Samuel Hosking, single, aged 31 years and a tin and copper miner. They lived at Relubbas Lane, St Hilary, Cornwall. Is this my Mary? The age is not quite right nor the place of birth. I have my doubts.
Another possible option was Mary Hocking, widow aged 73 years born Lelant. She lived with Ann Hocking an unmarried 46-year-old inn keeper and Elizabeth Hocking her 31-year-old sister, and John Hocking a 22-year-old nephew and mariner, and Mary Hocking niece aged 14 years and James R Hocking nephew aged 12 years, both scholars. The family lived in Lelant town, Uny Lelant. Again, I have doubts as Mary did not have a daughter Ann (to my knowledge).
If both results are incorrect, where was Mary Hosking in 1861? This is now on my revisit list as I am curious!
In the 1871 census Mary was aged 76 years when in fact she was 87 years old. She lived at Higher Downs, St Hilary, Cornwall with her widowed daughter Mary Ann Trevaskis aged 55 years. Mary Ann's daughter Margaret aged 20 lived with them and worked as a tin ore dresser.
Oddly Mary was aged 76 in 1871 in the census but when she died in the Penzance Union Workhouse, seven years later she was aged 93 years. This age is consistent with the 1851 census.
Obviously, her daughter Mary Ann could not keep looking after her mother and Mary was admitted to the workhouse sometime between 1871 and her death on 4 June 1878. Mary Hosking was buried the following day on 5 June 1878 in St Hilary.
The Royal Cornwall Gazette published a notice of death on 5 July 1878.

Peter Higginbotham's fantastic website on The Workhouse is a must for anyone whose ancestor spent time in a workhouse. He covers England, Wales, Ireland and Scotland and there is a wealth of information on what life was like for inmates.
The Penzance Union Workhouse was built at Madron in 1838 to accommodate 400 inmates. The image below is the main block from the east and the date is unknown. From The Workhouse.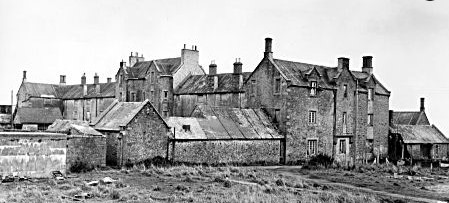 If I had not chosen Mary Hosking/Anthony for this week's blog challenge I would not have gone back into the census records. I have now learnt more about Mary and some of her children.
Her husband William Hosking died many decades before Mary. We know that in 1841 she still had two teenage sons to care for. We also know that at least three of her older children helped her at different times. Life could not have been easy for Mary and perhaps it is not that surprising that she ended up in the workhouse.
Sources: Census records via The Genealogist and Peter Higginbotham's The Workhouse