As tomorrow is ANZAC Day, my thoughts this week have been around those family members who have fought in various wars. While there are many individuals I could focus on, the one that comes most prominently to mind on ANZAC Day is Tasman Jarvis.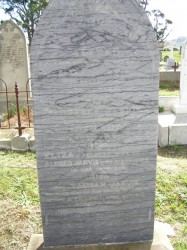 I can still remember the day we found his parents grave in Richmond Cemetery, Tasmania. I was noting all the details on the headstone and right at the bottom was an entry for their son Tasman Jarvis. It simply noted that he had been killed in action in Gallipoli on 25 April 1915 aged 34 years. One of the many killed on that day.
Tasman Jarvis was born in Brighton, Tasmania in 1881, the 10th and youngest child of Alfred Jarvis and Eliza nee Gunyon. He married Violet Thorne in 1906 and had three children before he enlisted in the army. He served as a Private in the 12th Battalion and there are many records recording his military service.
At the Australian War Memorial he is listed on the Roll of Honour Database and it gives basic information on his life and military service.
The Commonwealth War Graves Commission also has him on a Casualty List giving similar information. You can even generate a certificate.
There is also an entry for him in the AIF Project (Australian ANZACS in the Great War 1914-1918) which gives more information including his height and weight. It also mentions his previous military service with the Derwent Regiment for 5 years. It also lists his brother Richard George Jarvis, also killed in action in May 1915, and his cousins Henry Thomas Jarvis killed in action in September 1916, Roy William Jarvis returned to Australia 1919 and Alfred Edward Jarvis returned to Australia in 1917.
Tasman's military dossier has been digitised by the National Archives of Australia (NAA) and is freely available online. It gives more details on his time in the army. Another digitised file available online is an Application for a Gratuity lodged by his widow Violet on behalf of herself and her three young children.
Finally there is a third digitised file on the NAA site and it relates to a Summary of Particulars of Application for Assistance. This was submitted by Tasman's widow Violet. It is dated 1921 and she is asking for a loan of £35 to buy furniture. The application makes sad reading and reveals that the family have been living with her parents since Tasman's death. Violet took possession of her War Service Home in June 1921 hence her need for furniture. It was seen as a special case and she was granted the loan with the proviso that she repay it at the rate of 10/- a month.
All three NAA digitised files come up under a keyword search for Tasman Jarvis.
Tasman Jarvis was awarded posthumously the following medals: 1914-15 Star, British War Medal and the Victory Medal.
So tomorrow my thoughts will be with all those other families who lost loved ones at Gallipoli on 25 April 1915. Lest We Forget.