Since December 2009 I have been writing a monthly article on Finding Ancestors in Church Publications for Australian Family Tree Connections (AFTC). Parts 1-3 are now available online on Unlock the Past to make the articles more accessible.
Church publications include regular newsletters, newspapers, journals, histories, directories, biographies and so on. They don't include original records such as parish registers as these are not usually published. Although I mostly talk about published material, I do sometimes refer to original records if they are of interest.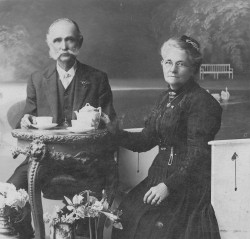 Briefly in Part 1 ( AFTC December 2009) I discussed some of the ways my own family history research has been enriched by information found in various church publications over the years. I give examples from my Price family in Charters Towers, my Johnston family from Sherwood in Brisbane,  and the Burstow family from Toowoomba, Queensland. The photograph at right is Thomas and Elizabeth Price (my great grandparents) who were members of the Charters Towers Ryan Street Baptist Church in Queensland.
In Part 2 (AFTC January 2010) I gave an overview of how researchers could find church publications in archives and libraries and what kind of records to search such as directories and almanacs. I also gave an example of how to search on the National Library of Australia's online catalogue TROVE for church publications.
Part 3 (AFTC February 2010) focuses on using brief guides and finding aids and highlights resources in Queensland. I also highlight some of the digitised resources available on CD ROM through Gould Genealogy & History using the Centenary History of the Presbyterian Church in NSW as an example.
Subsequent parts of the series will be put online with a two month delay between publishing in AFTC and going online at Unlock the Past. Parts 4-5 are currently available in Australian Family Tree Connections March and April 2010 respectively.
If you have also had success using Church publications please let me know as I love success stories.