Posted | 1 Comment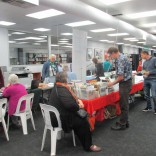 Each year the NSW & ACT Association of Family History Organisations holds an annual conference and this year it was in Orange, NSW in September 2017. With the theme of Your Family Story: Telling, Recording & Preserving it was always going to be a conference to appeal to genealogy and family history enthusiasts. However, I think just about everyone was amazed to find that...
Read More
Posted | 0 Comments
In previous years the end of National Family History Month and the giveaway prize draw has piggy backed on existing events in south east Queensland. For the first time we had a dedicated event with the Family History Association of North Queensland based in Townsville. An all day seminar was organised for 2 September 2017 with two speakers Shauna Hicks (also voluntary coordinator...
Read More
Posted | 4 Comments

I am participating in Alona Tester's family history blogging challenge...