Posted | 2 Comments
My great great great grandparents John and Helen Carnegie are buried in the only surviving grave in the old Toorbul cemetery, now a historic reserve. I have found all types of records about the family and their oyster leases in Pumicestone Passage after they settled there in the 1870s. When I started researching the family history in the late 1970s, local historian Stan Tutt gave me some photos he had taken of the family home at Toorbul which he said was referred to as Karisma. I have since found Karisma on many records relating to the Carnegie family and to their daughter Clara Stanley Davis later Bishop. When talking about my family at the local Bribie Island Historical Society, I mentioned that Karissma (sic) Street and other Karisma references at Toorbul were possibly because of the old Carnegie home, Karisma. It was pointed out that there was a boat by that name too in the area but that seemed to be much later than my family's home. So I am not convinced that these Karisma references do not refer to my family, it seems too coincidental and their home was there long before the boat. So what do we do when we are not sure about something? We search Trove and sometimes we find answers and then maybe not. What I have found this Trove Tuesday is an article in the Sunday Mail, 23 November 1952 about Karisma Estate which went on sale in November 1952. The estate was located at the Elimbah Creek side of Toorbul and the Carnegie home and oyster leases were on the opposite side bordering Ningi Creek. Not a great distance away and a nice easy walk on a fine day. According to Stan Tutt, Karisma (the family home) was not demolished until the early 1970s. There is nothing in the newspaper article that suggests where the developers got the name Karisma from, but Clara Stanley Bishop lived in the old family home until her death in 1960. Another search of Trove revealed that Clara rented out the family home in the 1920s. The Brisbane Courier on 13 September 1926 had an advertisement for 'home from home, on seaside farm, moderate tariff' placed by C S Bishop.  John and Helen Carnegie both died in the 1900s so the family...
Read More
Posted | 4 Comments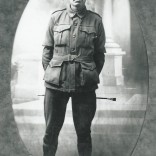 Back in December 2009 I wrote a blog post 50 Australian Websites for Family History and it is interesting to see what has changed in just nine short years. Most are still there, some have changed names, some have disappeared or been absorbed into other sites and of course, there is even more content online today. I ended that post with perhaps there should be a Top 100 list. Now my thoughts are that the list should be shorter, not longer. What Australasian websites could I simply not do without? Or should the focus be narrower and only on one state or territory? Whenever you compile a list you automatically start to leave things out. My students at U3A know that I am always talking about big ponds and little ponds. Do we search in the megadata bases (big ponds) and hope to narrow down to the right ancestors or do we search in little ponds where the results are smaller but more likely to be correct, assuming of course our ancestors swam in that little pond? As a disclaimer, I am not being paid in any form to include a website on this list. They are simply my own favourite sites, grouped together by broad subject. Archives As a former archivist I simply must include my favourites with free digitised records online. Archives New Zealand – some digitised images also available through FamilySearch Public Record Office Victoria – some digitised images also available through Ancestry and FamilySearch State Archives & Records New South Wales – some digitised images also available through Ancestry Tasmanian Archive and Heritage Office BDMs Most states have their indexes online to search free and the cost of images/certificates varies. My favourites are: Queensland – once payment is made you can download the image and keep researching Tasmania – digitised free access up to 1900, it does not get any better than that Victoria – once payment is made you can download the image and keep researching Cemeteries (Tombstones/burial records) A popular area and the growth of online resources in this area over the last ten years has been fantastic. I will just include portal sites and there are lots of little ponds if you know where your ancestors died. Most of these include records submitted by volunteers and you...
Read More
Posted | 9 Comments

Since 1977 I have been tracing my family history through the more traditional methods. Buying certificates, using archives and libraries and perhaps most importantly talking to the 'oldies' and learning what they knew about our family. By 2015 I thought I knew it all – I'd uncovered lots of family skeletons, discovered their crimes, their secrets and all the hardships along the way. I didn't think there were any surprises left. Then along came Ancestry DNA in 2015...