Posted | 0 Comments
In previous years the end of National Family History Month and the giveaway prize draw has piggy backed on existing events in south east Queensland. For the first time we had a dedicated event with the Family History Association of North Queensland based in Townsville. An all day seminar was organised for 2 September 2017 with two speakers Shauna Hicks (also voluntary coordinator...
Read More
Posted | 4 Comments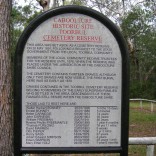 I am participating in Alona Tester's family history blogging challenge of an alphabetical ancestral placename geneameme. It has taken me a little while to get started as I have been busy as the voluntary coordinator of National Family History Month in Australia. But as August draws to an end, this is a fitting way to end my own family history activities during NFHM. By...
Read More
Posted | 0 Comments

There were 4 at sea days and these had sessions running from 9am to 5pm most...