Posted | 0 Comments
As a young child I was aware that my aunt's husband was a Mason although I wasn't too sure what the Masons were all about. My partner's great grandfather Thomas Stephen Burstow was very high up in the Masons (discovered through digitised newspapers in Trove). So there has been this lurking interest in the Masons and when a long time friend and former work...
Read More
Posted | 0 Comments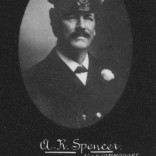 One of the questions I have always asked myself was – did my immigrant ancestors ever have contact with the family members back home? In some cases there have been surviving letters which do show that letters and photographs were exchanged with those left behind. In other instances I have absolutely no idea. Henry Spencer was the fourth child of Paul Spencer and Louisa...
Read More
Posted | 0 Comments

The second History Queensland family & local history conference was a...