Posted | 0 Comments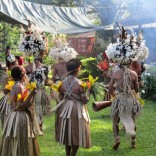 There were 4 at sea days and these had sessions running from 9am to 5pm most days plus there was at least one, sometimes more, talks from 8pm onwards. It was often a rush to fit in dinner, the cruise ship show and the after dinner talks! Who said cruise ships were relaxing, obviously not anyone on an Unlock the Past cruise who wanted to attend all the sessions. There were about 90...
Read More
Posted | 0 Comments
As a young child I was aware that my aunt's husband was a Mason although I wasn't too sure what the Masons were all about. My partner's great grandfather Thomas Stephen Burstow was very high up in the Masons (discovered through digitised newspapers in Trove). So there has been this lurking interest in the Masons and when a long time friend and former work...
Read More
Posted | 0 Comments

One of the questions I have always asked myself was – did my immigrant...