Posted | 1 Comment
This personal genealogy blog challenge is to stimulate my own genealogy blogging efforts in 2014 – 2015 by focusing on a different kind of genealogical record each week. I wanted a challenge that reflected my own archival background as well as my own genealogy interests and there are probably lots of other records that I could have included. The challenge has an Australian...
Read More
Posted | 0 Comments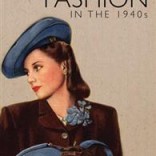 Jayne Shrimpton is probably best known in the genealogy research world for her book Tracing Your Ancestors Through Photographs, so I was interested to see what her other books on women's fashion were like. Fashion in the 1940s published by Shire Books is set against a war time background and the austerity that went with it. While there is a British focus, I think there are...
Read More
Posted | 5 Comments

With the AFFHO (Australasian Federation of Family History Organisations)...