Posted | 1 Comment
Amazingly it is six years since I first wrote about my grandfather Henry Price and his army service with the Kennedy Regiment on board the Kanowna at the outbreak of World War One. Read that blog post here. Back then I struggled to find information about the Kanowna incident and what happened to those on board after the ship's crew mutinied and demanded to go back to...
Read More
Posted | 1 Comment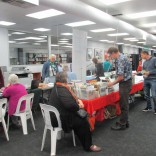 Each year the NSW & ACT Association of Family History Organisations holds an annual conference and this year it was in Orange, NSW in September 2017. With the theme of Your Family Story: Telling, Recording & Preserving it was always going to be a conference to appeal to genealogy and family history enthusiasts. However, I think just about everyone was amazed to find that...
Read More
Posted | 0 Comments

In previous years the end of National Family History Month and the giveaway...