Posted | 0 Comments
This is the latest book covering the adventures of fictional forensic genealogist, Morton Farrier by UK author Nathan Dylan Goodwin. It combines the short story of The Suffragette's Secret with the full-length novel The Wicked Trade. A lovely double dose of Morton Farrier! Usually when I finish one Morton Farrier adventure I want to read another one straight away – my wish was...
Read More
Posted | 2 Comments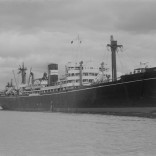 My great grandfather Herbert William White was from Farley in Wiltshire and he arrived in Townsville, Queensland on board the Chyebassa on 8 March 1883. Trove is a fantastic resource for locating information about an ancestor's voyage to Australia. It's not just digitised newspapers and in this blog post, I look at newspapers, books and photographs and make some...
Read More
Posted | 2 Comments
So much for trying to do a Trove Tuesday post once a month! My last post was...