Posted | 0 Comments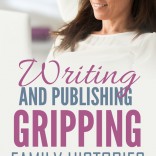 When I attended the NSW & ACT Association of Family History Societies conference in Camden in September 2016, I was able to catch up with Carol Baxter, the History Detective. Carol had just published the 3rd edition of her popular Writing Interesting Family Histories and a companion volume Writing and Publishing Gripping Family Histories. I've enjoyed many of...
Read More
Posted | 2 Comments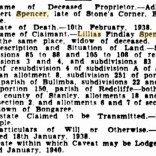 For my first Trove Tuesday post of 2017, I am highlighting the wonderful information that can be located in the seemingly boring Government Notices section of newspapers. Today's topic is transmission by death notices and this is where property is directly transferred from the deceased to someone else, quite often a spouse, assuming there are no objections. Information...
Read More
Posted | 4 Comments

Each year Geniaus (Jill Ball) invites people to take part in this activity by...