Posted | 0 Comments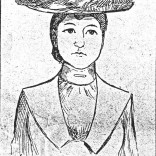 March is International Women's Month and previous years I have blogged about my own female ancestors. Time flies as I thought I wrote about My Four Great Grandmothers last year, but it was back in 2016. This year I decided to write about some of my favourite resources for finding women. Women can often be hard to locate as they were not often mentioned in the records. If they were, it might have been as Mrs Price, or Mrs Thomas Price but rarely as Elizabeth Price. The latter is my great grandmother who was a deaconess in the Baptist Church in Charters Towers. The yearbooks only have her as Mrs Price or Mrs T Price. So when searching for a female ancestor, look under the husband's name too. I nearly missed finding an obituary for another female relative as not once did the obituary mention her name, only her husband's. Below are some of the resources I have had most success in locating my own female relatives. Australian Women's Register The Register currently has almost 7000 entries with references to over 4200 archival resources, over 8650 published resources and over 1250 digital resources relating to women and women's organisations. There are various themes such as occupations or place or you can simply search. While not all women are listed, there are links to various church records where women were involved or organisations such as the Country Women's Association. Trade unions are also relevant as many women were nurses or teachers. Simply browse the categories to appreciate the various resources and how they may assist your own research. Cemeteries Death is one area where we can find women. Many cemeteries have burial records online now, and there may even be transcripts or photographs of the tombstones online. BillionGraves and Find A Grave are two portal sites but remember to also look at local government websites for burial records. Another favourite website is the Ryerson Index which is an index to death and funeral notices across Australia. Remember to check the coverage and as a volunteer project, it is continually being added to. Military Records This is definitely for more recent female relatives, but many women enlisted in the military during World War 2. My mother in law joined the RAAF and her file has been digitised...
Read More
Posted | 1 Comment
I am a proud ambassador for the upcoming Waves in Time conference on the Sunshine Coast. Ambassadors are doing a series of blog posts on speakers and sponsors to help promote the conference and get the excitement going. My first speaker interview is with Niles Elvery from the Queensland State Archives. We have asked him a set of questions to learn more about his interest in archives and history. Questions are in italics. I wonder if you could tell us a little about your background?  Are you a genealogist, researcher, historian or representing your organisation?   I will be representing my organisation, Queensland State Archives, at the conference. I like to think of myself as someone who has worked in the library and history sector for many years and align most closely with historian. I have worked in this sector for over 35 years and really enjoy connecting with the history of this state. There are so many individual stories that have yet to be written. How has genealogy/family history/history/heraldry improved or changed your life? History has given me an appreciation of where we have come from. Understanding the lives of those that have come before us and how Queensland has changed over the years. What do you love most about genealogy/family history/history/heraldry?  Uncovering the intimate details of our history and being able to share these with the wider community. Working at QSA gives me the opportunity to help others find the pieces of the jigsaw which contribute in some small way to the whole picture. Have you attended a History Queensland Conference in previous years? Yes. I presented a paper at the conference at the Gold Coast on the Q ANZAC 100 project that I was working on at State Library of Queensland. What are your key topics for the Waves in Time Conference? That QSA collection contains some amazing things. QSA is using online channels to connect with new audiences and share the collection. How do you think your topic/s will help the family & local historians at the Waves in Time Conference? This will give attendees an appreciation for what might be held in the archives. And maybe open some new channels of communication. And also develop an understanding amongst the research community that the content is there to be shared. These are collectively...
Read More
Posted | 2 Comments

My great great great grandparents John and Helen Carnegie are buried in the only surviving grave in the old Toorbul cemetery, now a historic reserve. I have found all types of records about the family and their oyster leases in Pumicestone Passage after they settled there in the 1870s. When I started researching the family history in the late 1970s, local historian Stan Tutt gave me some photos he had taken of the family home at Toorbul which...