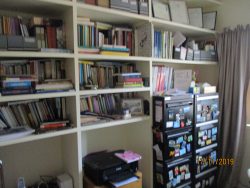 Recent health issues have made me realise, more than ever, that if our family history is not well organised and compact then no one is going to want it. Having started way back in 1977 my records are a mix of paper and digital, there are books, genealogy journals, photos, negatives, albums, memorabilia, genealogy software and several laptops, hard drives, USBs, online trees and Cloud files. Not to mention social media and all those passwords.
I've lived in many places and prior to every move I have tried to downsize by giving away books and journals no longer wanted. Since my last move, I have made a serious attempt to reduce the number of filing cabinets and to start writing up draft family histories. As you would expect, over the last 40 something years, I have a wide range of recordkeeping that also reflects changing technology over that time.
My health treatment will last for at least the next 12 months. Perfect for a blog challenge and will give me a practical exercise to focus on and write about. At the end of the challenge I hope to have just about everything digital although there will always be paper copies of documents such as certificates and original photos and other items (with scanned images).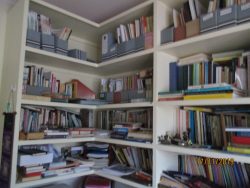 At the Waves in Time conference on the Sunshine Coast in May 2019, Barb Toohey gave an excellent talk on Who Wants My Records? Many of her suggestions I already follow but she made me realise that I need to be a lot more ruthless.
Our back bedroom is my study – it has bookcases on two walls floor to ceiling, two four drawer filing cabinets, 2 one draw filing cabinets and the built-in wardrobe has another bookcase and shelving for binders, photographs and albums. Then there is my work desk with four drawers and a folding table which simply seems to collect anything and everything. Every shelf is crowded and altogether would not fit into the boot of anyone's car.
There are 12 months for this project – 12 goals? – What do I want to realistically achieve? My first 12 thoughts are (and in no particular order):
1 manilla folders in filing cabinets (paper information on families and correspondence)
2 genealogy journals some dating back decades
3 genealogy books and CD/microfiche resources
4 local history books and family history books
5 personal biographical folders (everything to do with my professional career over 40 years)
6 Family photographs and albums
7 written family histories (most families have a draft version that needs updating)
8 digital files (documents and photos) need tidying up
9 Cloud files need tidying, social media accounts, passwords, online trees
10 genealogy database – citations/sources vary over time with older research not as well sourced
11 family history binders (one for every immigrant couple and for primary families overseas)
12 that pile of unfiled records, emails, books and journals unread.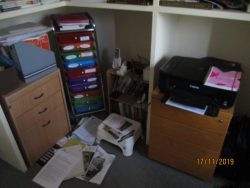 As well as my own family history, I have also traced my son's paternal side although not to the same extent. Similarly, I have done my partner's family history but his is mostly digital as I only started that in 2001.
Each of those 12 categories will probably take more than a month even working flat out. At this stage I think I will go for the most gain in the quickest time. This will probably involve making 'simple' decisions such as keep, give away or toss. Marie Kondo will be proud of me (and yes I have her book – picked it up for $1 in an op shop).
Or simply sorting boxes of photographs. For example, I now have all of Mum's photos and albums but have not done anything with them in the last two years. Old genealogy journals I can pass on to my U3A family history students.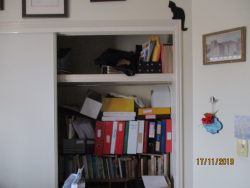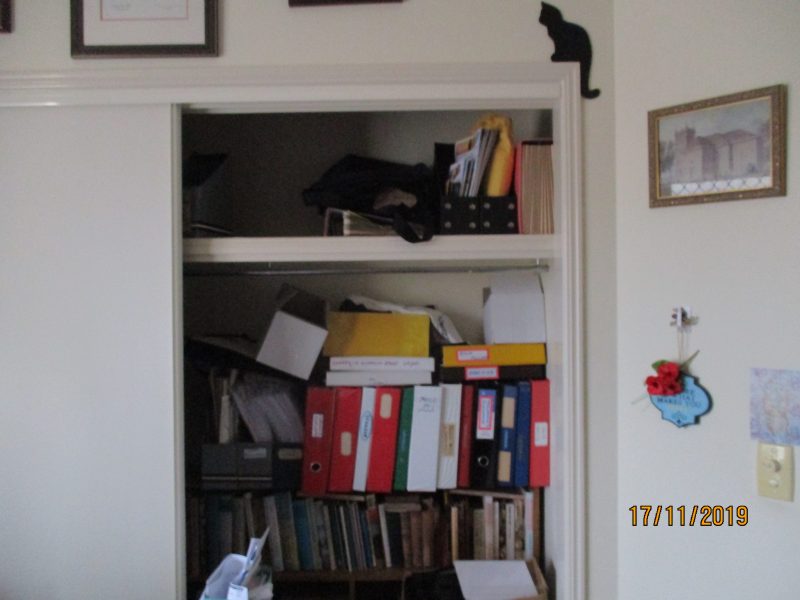 From previous project management experience, I know that I need to define the project, outline the tasks and assign time frames. Otherwise nothing will happen. To help me with this I am trying out Trello boards (free version). This allows me to define a project, list activities to be done, and to note progress and finalisation. What I have found so far is that this takes time but good planning up front always means that a project will progress more smoothly and successfully.
November is my planning month. Setting up the Trello board with tasks and activities. Then selecting something to tackle in December and the coming months. To avoid boredom, I will probably do a range of activities over a number of categories. This will be where Trello will be most useful – recording what is done and where I am up to in case it takes a while to return to a task.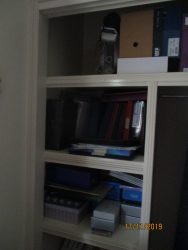 Already I am starting to think this is a huge challenge but if I don't start somewhere, then there is the chance that my work could be tossed out. Far better that I decide what to keep and where to leave it for future generations. Fortunately, the National Library of Australia archives both my website and my Diary of an Australian Genealogist blog. Both can be accessed via Trove and through the Internet Archive.
Finally I was going to do a mad tidy up in the study as it has got quite messy over the last couple of months with time away at hospitals and medical appointments. But staying true to the challenge, this post includes a few photos of what the study looks like at the start of this 12 month blog challenge.
Wish me luck!