In my 'spare' time, I have been compiling a list of all the conference papers presented at VAFHO (Victorian Association of Family History Organisations) conferences between 1995 and 2010. Conferences are usually held every two years but there are exceptions especially if the AFFHO (Australasian Federation of Family History Organisations) Congress is being held the same year.
I'm happy to say that I have finally completed the listing. Over the last few years I have managed to pick up copies of all of the proceedings except for two conferences. I had to borrow copies of those so that I could look at the papers as it is not always easy to work out what a paper is about simply from the title.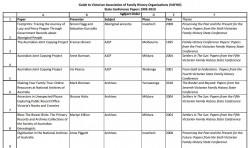 I finally settled on the following headings: name of paper, presenter, subject, place of conference, year of conference and the conference theme. I then put it all in subject order but I must say the subjects are very broad and I tried not to have too many. Where necessary I did list some papers under two subjects.
Why did I do this? Well I find that conference papers often have information and resources listed in them that are not readily found elsewhere. Of course, some papers do date very quickly but others are still as relevant today as there were when first written. After a conference everyone goes away totally motivated and excited but after a while, the proceedings end up on a bookshelf and may never be looked at again.
I would like to see more use made of these resources hence my listing and placing it online here for everyone to look at. Of course once you see a paper you want to read, you need to then find a copy of the proceedings or arrange for a copy via inter library loan. Ideally it would be good to see the proceedings all digitised and available in a single volume for sale. Or perhaps even online so that the papers can be directly linked to the digital copy.
At the next VAFHO committee meeting I will be reporting on the completion of my listing and raising the issue of how others can also access the articles easily. Either way I'm glad to tick a major item off my to do list! As always, I am happy to receive any feedback.