Six years ago, on 8 November 2014 I blogged about Frederick Trevaskis and how he died on the battlefield in Belgium on 13 October 1917. Each ANZAC and Remembrance Day I like to do a tribute to one of my military ancestors. Frederick Trevaskis was a distant cousin (my great grandmother Dorcas Trevaskis was his aunt) and in the Centenary year of World War One it was fitting to dedicate this blog to him.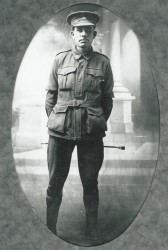 The original blog post is reproduced below for convenience. But why would I repeat this tribute? With family history research there are always new resources and new indexes to check. Especially after the centenary of World War One.
In Queensland, the Registrar General of Births, Deaths and Marriages arranged for every soldier who died overseas to have a death certificate. Families had no place to grieve as soldiers were buried overseas and it was felt that recognising their deaths back home might be part of the healing process. The Registrar contacted all relevant families and gathered the information together and all the Queensland related deaths were finally listed in 1922. The soldiers themselves had died much earlier.
This project generated correspondence with the families and in a lot of instances this was kept with the hand written death certificate in the registers. A World War One Centenary project was to digitise and make this additional information available, for a fee. It is described as a Source Image, the other two options being Registration Image and Historical Certificate. You can read more about this project in Issue 6 of the RBDM News April 2015.
When I checked the online death index for Frederick Trevaskis, I noted that there was additional source information. This can be letters from the family or, as in my case, simply a hand written copy of the death certificate completed by the family in 1922. That one sheet of paper (which cost the same as the Registration Image) revealed a lot of heartache. It was signed by his mother Louisa Trevaskis and I couldn't help wonder, did filling in the form five years after his death bring back all the memories as well.
To the question How long was deceased in the Australian States? she answered ' had never left Australia prior to the war'. Where details of his marriage and children should have been listed, she simply did a great big cross against that section. How many mothers thought about grandchildren that they would never have?
Was it worth purchasing the additional record? There was nothing new but looking at the copy of the certificate filled in by Frederick's mother, brought the pain and loss of so many sons and husbands to the fore. Plus I might have been lucky, and found additional correspondence.
Original Tribute
Frederick Trevaskis was the son of William and Louisa Trevaskis and was born in Charters Towers in 1891. He had three older brothers and one older sister and three younger sisters. At the time he enlisted in March 1916 he was 25, single and working as a stockman in Charters Towers.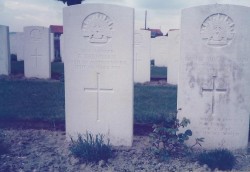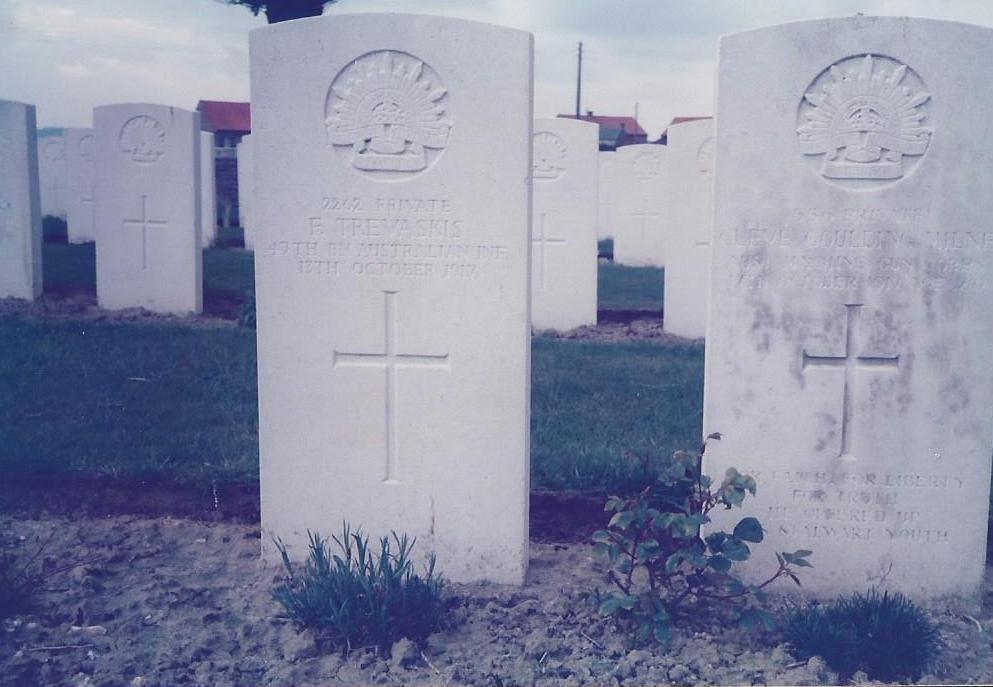 Frederick embarked from Brisbane on board HMAT Boorara on 16 August 1916 for England and disembarked in Plymouth on 13 October 1916. He was then sent to France on 21 December 1916 on board SS Princess Clementina. He joined the 47th Battalion, 4th Reinforcements as a Private.
Frederick was killed in action in Belgium just under a year later on 13 October 1917 and is buried at Dochy Farm New British Cemetery in Belgium. Dochy Farm which had become a German strong point was taken by the 4th New Zealand Brigade on 4 October 1917 in the Battle of Broodseinde.
The cemetery was created after the Armistice when isolated graves were brought in from the battlefields of Boesinghe, St Julien, Frezenberg and Passchendaele. It contains 1,439 burials with 958 of the burials unidentified.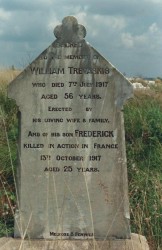 For his war service on the Western Front Frederick was issued with the British War Medal and the Victory Medal.
Although he has a Commonwealth war grave tombstone in Belgium, his grieving family also placed a memorial to him on his father's tombstone in Charters Towers. His father William had died a few months earlier on 7 July 1917 so the last months of 1917 would have been a very sad time for the family.
Lest we forget.