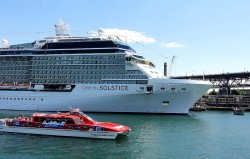 This was a different type of cruise to what I had been on previously. As a three night cruise on the Celebrity Solstice with no port stops it was described as a sampler cruise for those who might be considering a longer cruise but not sure if they would like being at sea. However for those who liked cruising and genealogy, this was more just like a genealogy conference, only at sea. It did not attract as many people as previous Unlock The Past genealogy cruises, but those who did go were keen and all sessions well attended and the Research Help Desk was kept busy.
Rather than a day by day account, this  time I will do it by speakers. This cruise had three (new to genealogy cruising) speakers – Carole Riley, Cathy Dunn and John Donaldson with Rosemary Kopittke and myself the other two speakers.
Carole's talks were on finding places in Ireland, NSW land records, pre 1856 resources for family history and using Evernote for recording everything including your genealogy.
Cathy spoke on online newspapers (Trove and its many features), the old Sydney Burial Ground, and early NSW church records.
John is a Family Tree Maker guru and had one day of the cruise dedicated to a series of workshops on how to make the best use of the software program. I don't use this software so I didn't go to any of John's sessions.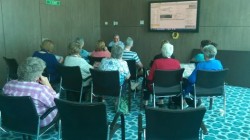 Rosemary's talks included gazettes, directories and almanacs and how to research your German ancestors.
My talks were it's not all online, Victorian resources for family history, online resources for Queensland, blogging and how to do it and a personal look at my Carnegie family and the stories behind their headstone. As usual copies of my presentations are on the Resources page of my website, scroll down to Presentations.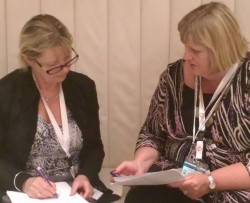 During the Help Desk session I had a small queue of people with lots of questions and one person came totally prepared with her three brick walls all detailed on separate sheets of paper. And they were classic brick walls but I did manage to suggest perhaps some alternative spellings to check and other clues to follow up. Another person had some handwriting on an immigration list she could not decipher and those two words were tricky, a referral over to Carole and Cathy didn't help either so I hope she finds someone else with those words written against a passenger.
As usual I learnt lots of useful tips from the other speakers and even if I have heard some of the talks before, I am always surprised at how much new material is out there, even in remarkably short periods of time. Also I find it useful to listen to some talks a number of times to take in all the information. A few URLs from my notes:
Use the Ryerson Index in conjunction with Trove
Cyndi's List – Evernote for Genealogists
Biographical Database of Australia (useful for early colonial NSW)
Tasmanian BDMs (digitised images) in FamilySearch
Old Sydney Burial Ground index on City of Sydney Archives and other NSW resources
Western Australian Post Office Directories online (State Library of Western Australia)
Ancestry has Meyer's Gazetteer of the German Empire  (German research)
Kartenmeister (look for your German place name)
Ortsfamilienbucher (online heritage books, Germany – useful guide in FamilySearch Wiki)
Overall I enjoyed the cruise although I much prefer a longer cruise than just three nights. The onboard entertainment was varied and something for everyone and as usual, there were more dining areas than you had time to try and food was plentiful. There was also plenty of exercise as we were down one end of the ship and the genealogy sessions down the other so a bit of a walk in between sessions if you wanted a coffee or something to eat.
Our flight out to Norfolk Island was not until Monday so no point flying home for one night. We stayed Sunday night at a hotel near the airport and spent a pleasant afternoon strolling around the parklands bordering the Cook River. The report on the history and genealogy conference will follow in a separate blog.