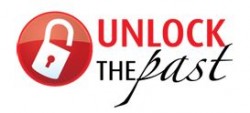 I seem to have a sixth sense when travelling as I woke up 15 minutes before the alarm went off at 6.00am so that I would be ready for the 8.00am departure from our Christchurch hotel. Today I gave myself time to get some breakfast and a final walk around Cathedral Square. After a slight delay at the airport we were on our way to Wellington and the tenth day of the Unlock The Past history and genealogy roadshow. I should say that is just ten days of actual presentations the travel time has been nearly three weeks!
At the airport we met up with Jan Gow of Beehive Books fame (amongst other things) who was one of the speakers today as well as having a small display table with tempting goodies (aka genealogical software and books).
Today's venue was the impressive Westpac Stadium with a great view over the playing field and the hills of Wellington surrounding the Stadium. To top it off, it was a beautiful day with blue sky, just a hint of clouds and the sun was shining.
The first stream of speakers was the usual suspects – Elaine Collins from FindMyPast UK, Louise St Denis from the National Institute for Genealogical Studies, Rosemary Kopittke talking on FindMyPast Australasia and myself doing sessions on Australian research and Family History on the Cheap. Yesterday both Rosemary and I had sessions where we each presented one of Dan Lynch's talks on Google Your Family Tree but Rosemary must have been the better Dan Lynch impersonator, as today's program was changed so that she presented both talks instead of one each as previously planned.
I was a bit sad that I didn't do a Dan Lynch today as it was challenging trying to do another speaker's talk using their slides, but the show must go on as they say. On the positive side it meant that I got to see another one of the local sessions so perhaps I did end up with the better gig after all!
Which brings me to the local stream and first up was Brenda Joyce talking about the New Zealand Society of Genealogists who had an informative display table with useful handouts on Irish research from their very active Irish group. They also had examples of their publications on CD as well as information leaflets on their various branches – 66 of them to be exact! I was also very impressed with their members only benefits which includes online access at home to things like the 18thC & 19thC digitised newspapers from the Gale collection. I don't think any Australian societies offer this kind of benefit to their members – perhaps we are spoilt by the National Library of Australia E-Resources!
While this session was on, Rosemary was giving a talk on FindMyPast Australiasia and the important thing to remember here is that there is a 24 hour free trial with no credit card and the best results are obtained if you use the Keyword field rather than the name field as it includes both structured and unstructured databases.
The second session was presented by Geraldine O'Reilly from the NZSG Irish Special Interest Group and she talked about Peter Grace an Irish settler in early New Zealand.  This was a case study and Geraldine showed just how much can be found on one individual using sources such as newspapers, gazettes, images, various government documents and of course BDM certificates.
The alternative choice here was Rosemary presenting Dan Lynch's Google Your Family Tree: The Basics the session I was originally down to do.
After the break, Jan Gow took us on a 48 hour journey with Scotland's People which was presented with Jan's usual engaging style while still packed with information and clues for our own Scottish research.
This time the alternative choice was Louise talking about genealogy education from a distance. There are handouts for each of Louise's talks on the roadshow and they can be found at the National Institute for Genealogical Studies by going to the tab Institute and then the tab Faculty and Consultants and then selecting St Denis, Louise.
I couldn't listen to Heidi Kuglin talking about It's Not All Online: Searching Original Records at Archives New Zealand because I was presenting the first of my talks on Researching Australian Ancestors.
At each of the venues Gould Genealogy, Family Photo Book and Inside History have also had displays and Alan and Anthea have steadfastly staffed those tables and assisted people with their queries.
After dinner, Elaine talked about FindMyPast UK and Louise did her session I Found It Once, Why Can't I Find It Again and in the final session Rosemary did her second talk on Google: Images and Video while I did Family History on the Cheap. My handout is on my website under the Resources tab and it includes the URLs of all six talks I have presented on the roadshow.
It is fast approaching midnight and I have to be up and ready to leave at 7.00am for Auckland. It is hard to believe that the roadshow is almost over –  there have been many long days for the UTP team and all the exhibitors at the various venues but the feedback has all been overwhelmingly positive and there are many people who have gone away from the roadshow inspired to follow up on all the many aspects covered in the various talks.
Stay tuned for the final daily report from Auckland tomorrow although I am tempted to do an overview of the whole roadshow – reply to this post if you want a final wrap-up of the whole roadshow and tell me what you have liked best about the daily blogs!