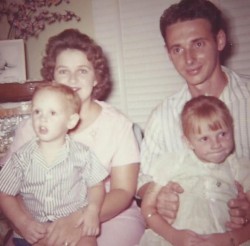 I'm participating in the 52 weeks of personal genealogy and history challenge.
This week's topic is all about what were some of the technological advances that happened during your childhood. Wow – where to start as there has been incredible change during my 50 something years.
After some thinking I have come up with my top 3 technological advances that impacted me the most in hindsight.
Without doubt the purchase of our first television changed our lives (and our eating habits). We always used to eat together as a family at least up until our high school years. When we bought the TV it went into the lounge room but we all were soon addicted to the TV (even though it was B&W).  And no we didn't start eating in the lounge room!
Our lounge and dining rooms were really one big room so it was a relatively easy matter to turn the TV around at dinner time, although it was incredibly heavy. We always had to watch the news and then my strongest memory is of Bob and Dolly Dyer and Pick A Box which we watched religiously. I can still remember Barry Jones and his debates with Bob.
Of course with the TV on that was the end of dinner conversation as a family unless we could do it within the adverts and there didn't seem to be that many back then. After dinner I had to go to my room and do homework, especially when I was in high school, and I remember having to yell to turn the TV down so that I could think. It was only a small house and my brother would be playing his music in his room across the hall to make it even more chaotic. I ended up using ear plugs.
Even today I tend to associate dinner time with the 6.00pm news and I strongly suspect that is why Queensland still doesn't have daylight saving – they are all inside watching the news on TV and having dinner at 6.00pm, which would only be 5.00pm real time. I never really believed the curtains would fade.
My second technologically shattering event was the invention of the pop up toaster. I can't tell you how many times I used to burn my fingers on the old toaster which you had to open from the sides to put the bread in and then open without burning yourself once it got hot. I also used to burn a lot of toast as well. So for me the pop up toaster was simply the best invention after sliced bread or was it before sliced bread! Everyone's allowed one trivial memory!
From a non family perspective the greatest event I ever witnessed was Neil Armstrong walking on the moon. It was a school day and I was in a small high school in Brisbane. Due to the significance of the event, we were all herded into the science lab to watch the television. We stood there for what seemed like hours (thankfully it was winter) but it is still incredible to think we were watching it live on television.
I had always been fascinated by astronomy and outer space and I used to watch all those early B&W space movies and so on. My first real love was William Shatner aka Captain Kirk from the Starship Enterprise – none of the other spin offs have captured my attention as much as the original series did.
If I was to come closer to the present, one would have to say things like my first computer and then laptop, the joy of email, the internet not to mention mobile phones and all the other gadgets that we can no longer seem to live without. My generation has certainly seen a lot of technological change in our everyday lives. I am left wondering what my Gen Y son would say to the same question.