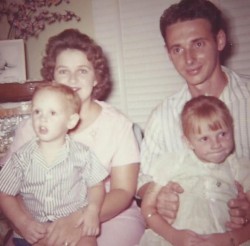 I'm participating in the 52 weeks of personal genealogy and history challenge.
Surprisingly this has been a difficult blog to write as I have been unable to pick a central theme. I like all foods and cooking styles but if I focus back to my primary school years I would have to say that I always liked Friday nights. That was fish and chip night and unwrapping the newspaper and letting out all those wonderful smells is an enduring memory. I can't remember it from my teenage years so we obviously stopped the tradition at some point but I don't know why.
Perhaps the only memory of food and my maternal grandmother is the coconut ice cream she used to make – she must have cooked other things but I can't recall anything. Sadly no one has a copy of her exact recipe. She died when I was 7 years old but I do remember that she was the catalyst for all Mum's siblings getting together on a regular basis. A feature of those nights was Sao biscuits with tomato and cheese and still a favourite with me today. Although I like to put raw onion on them too! After my grandmother's death, these nights gradually ceased as everyone got caught up in their own individual lives.
My father always liked to BBQ, cooking outdoors whenever he could and this is a tradition that I still retain – we cook outside most nights of the week and breakfast at the weekend is always bacon and eggs on the barbie. He was also a keen fisherman and always cooked his own fish and crabs – something that we still do when we get the time to go fishing. My son also likes his BBQs and fishing so perhaps that is a family trait that we have developed.
These days my eating habits are very much Asian with a love of Indian, Thai and Malaysian curries – my partner lived in Malaysia for 3 years so his curries are very much authentic and probably a good thing that we both love spicy curries. A trip to Vietnam is now planned as we have become addicted to Luke Nguyen's Vietnam cooking show on SBS.  We love the way he uses fresh chillies and makes it all look so simple.
As I said at the start, this Food challenge is difficult as so much of our lives is spent eating with friends and family and as such, there are so many memories attached to thoughts of food. It would be good to ask this question at the next family gathering and see what others remember.
Looking forward to Week 6 – it is really good trying to remember childhood memories. I think I am getting better at it!