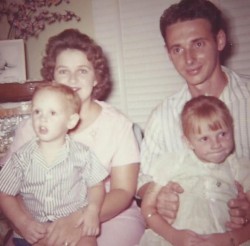 Well I have just signed up for another 52 weeks of improving my genealogy skills with Geneabloggers. Last year's theme was Better Genealogy and this year the theme is Personal Genealogy & History.
The first week is looking at New Year's Day traditions in the family and sad to say I can't remember any times we celebrated new year but we must have. I know every year my parents and younger brother and I used to go down to the Gold Coast and after my 12th birthday we had a caravan that we left down there. We used to travel down every weekend, especially in the summer months. So for New Year we would have been in a caravan park, and earlier it would have been a tent in a camping ground. But I can't recall ever seeing the New Year in.
Even today I don't really celebrate New Year – in fact this year I totally slept through it! When I have been in Brisbane for New Year and staying at New Farm, we would walk down to the river and watch the fireworks although we could see some of them from the second storey of our house.
One year in Melbourne we stayed overnight in the city and watched the fireworks but there were so many people it was a struggle just getting back to the hotel and we've never done it since. Strange  but I can't remember any New Year parties in Canberra either.
I am an early riser and not into late nights at any time, so maybe I simply don't attend New Year parties and celebrations – certainly while I think the fireworks are impressive, I do wonder what else the money could be spent on.
I am going to ask those close to me about their New Year memories just to see if I am totally forgetting something, but I suspect that it is not a tradition that I have ever really followed.
Week 1 has certainly got me thinking about my own personal genealogy & history- it's a bit of a worry that I don't seem to be able to remember anything!